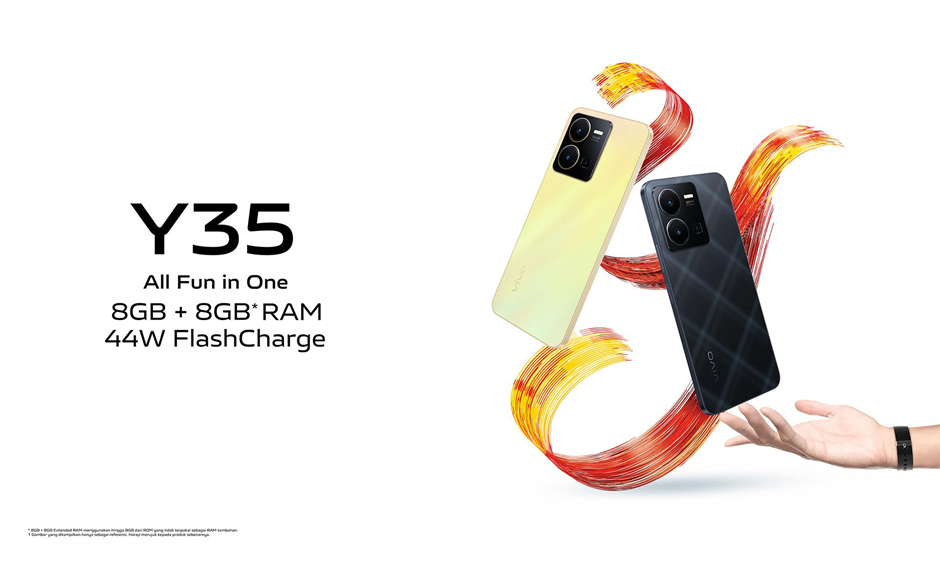 The latest smartphone from Vivo Y35 has the best specifications in its class. Starting from RAM/ROM, battery capacity and fast charging, waterproof with an elegant design, supported by good audio quality, and a clear screen display.
8GB + 8GB Extended RAM, Extended Fun
No need to hesitate to switch active applications smoothly because Extended RAM 3.0 converts 8GB of unused space into additional RAM. Able to run multiple applications simultaneously without lag.
This step of technological advancement is an update from the previous series. Maximizing the work of smartphones to provide the best results for users. 128GB Capacity and Expansion up to 1TB. Store all your favorite files with the massive 128GB of space, equivalent to 854 TV series episodes, or add up to 1TB of space with the Triple Card Slot design.
44W FlashCharge + 5000mAh Battery
vivo Y35 can be charged in 15 minutes or 70% charged in just 34 minutes. 15 minutes of charging can be used to enjoy 414 minutes of video streaming or 9 rounds of gaming. Now, the problem of running out of battery is nothing to worry about. It is also equipped with 5 Charging Protections which makes charging safer.
No need to worry because large batteries last longer with AI energy-saving technology and vivo Energy Guardian. In addition, it is also equipped with reverse charging to charge your other devices. That way, users can stream HD movies online for 14 hours, play games with high graphics for 7 hours, and can last for 2 days.
Snapdragon 680 6nm Platform
With Qualcomm's most powerful Snapdragon 680 Octa-Core platform, users will be amazed by the powerful performance designed to outpace its predecessors in running multiple apps smoothly, effortlessly, and without lag.
6nm Fabrication can achieve power savings with a clock speed of 2.4GHz. Single-core CPU performance increased by 20% vs Snapdragon 662. While GPU performance increased 10% vs Snapdragon 662.
Great Sounds with Audio Booster 2.0
Enjoy the freedom of turning the volume up beyond the maximum in Audio Booster Mode. Boost audio up to 5dB for clearer sound, even in noisy places. Indulge the user's ears with higher volume, better audio detail, and more dynamic sound in music, games, or videos.
It provides an interesting experience in the audio section for the needs of everyday users. It is suitable for gamers to play games with sharp sound details. Achieve victory in every challenge.
Multi-Turbo 5.5 and Ultra Game Mode
Eliminate lag caused by active apps, as the algorithm intelligently optimizes power to improve the smoothness and stability of the phone, especially when playing games.
Play and experience the game like a pro with a variety of customized audio effects and features that keep you focused on the game.
FHD+ 90Hz Sunlight Screen
Sunlight Screen mode delivers screen brightness of up to 550 nits in direct sunlight, complemented by the P3 Color gamut that delivers rich, clear and immersive visuals with unmatched screen viewing comfort. The screen is also very responsive and filters out harmful blue light.
With a high resolution of 1080p (FHD+), users will get a high refresh rate of 90Hz and a color gamut of 96% NTSC. The eyes will not look tired even if they stare at it all day.
2.5D Flat Frame Design and vivo Dynamic Color
Stylish through a classy design, with a thickness of 8.28mm and a weight of 188g, which makes this phone comfortable to hold. It comes in various colors with Crystalline Matte technology that is resistant to scratches and fingerprints.
There are two kinds of color variants, namely Agate Black and Dawn Gold. The colors on the vivo Y35 can give an elegant impression when held.
Ultra Fast Side Fingerprint
Unlock the phone easily in just 0.19 seconds with the power button with fingerprint scanner. Or, simply open it face-to-face via Face Access. This convenience can be maximized by users by quickly opening or closing the smartphone. Multitasking activities can be guaranteed with the vivo Y35.
Comes with 4 Main Cameras
There is a 16MP front camera that produces the best selfie photos. Furthermore, on the rear camera there is a 50MP Night Camera, 2MP Bokeh Camera, and 2MP Macro Camera.
Get professional-looking shots with vivid details, even at night, that deliver the best 50MP high-definition images every time. Supporting user creativity in the field of photography only with a smartphone camera.
Protection from Water and Dust
Benefit from a durable body that's been tested to withstand extreme temperatures, scratches, and continuous USB use.