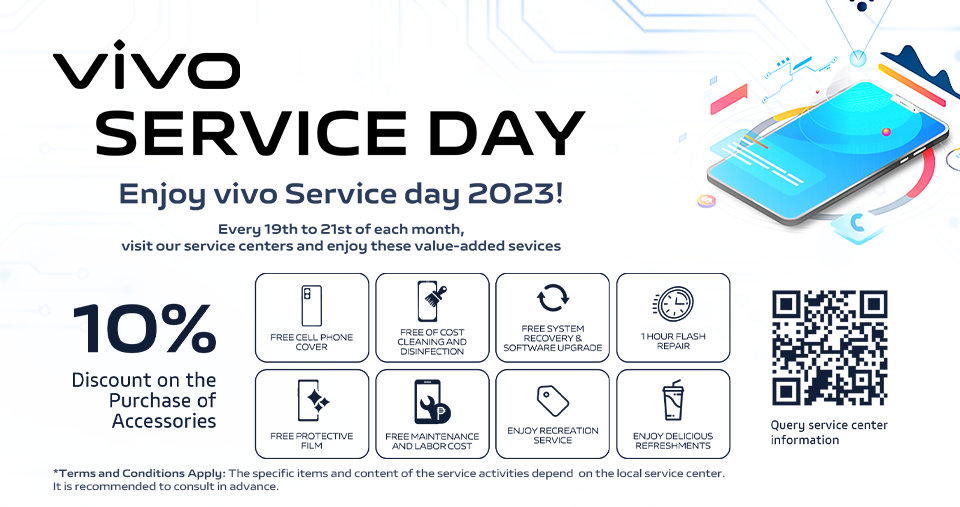 vivo Service Day is on the 19th to 21st of every month and will be celebrated for 3 days with delight and love, our 30 authorized service centers nationwide and vastly specialized team of service consultants and maintenance engineers will assist you with passion and enthusiasm. vivo is committed to transforming and spreading our service approach to provide an excellent customer service experience again and again. So, Don't wait and rush to your nearest official vivo service center from the 19th to the 21st of every month of 2023 and get value-added services.
vivo mobile phones have made you a celebrity and you can now enjoy all the luminary benefits, of vivo Service Day with superior services that include:
· 10% discount on the purchase of accessories
· Free protective film application
· Free protective cover
· Free Software Upgrade
· Free Cleaning and Maintenance
· Enjoy delicious Refreshments
We are delighted to entertain our customers – Get more in less on vivo Service Day!
Get more information about Service Day:
Toll Free: 180013220368
Email: vivo.serviceph@ph.vivo.com
Website: https://www.vivo.com/ph
Facebook: https://www.facebook.com/vivo.philippines
Some service items are subject to the actual conditions of the service center. For details, please contact the local service center.