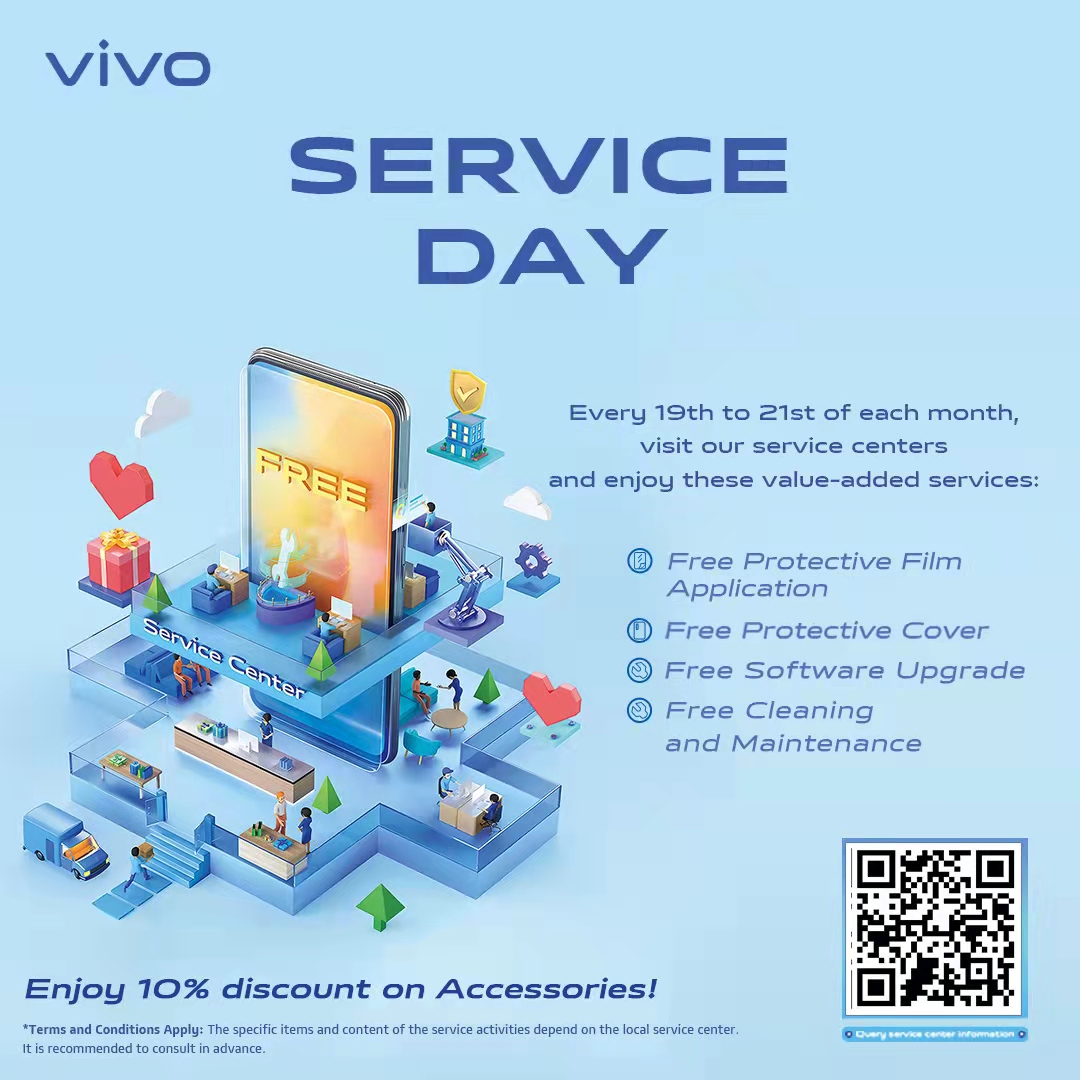 Treats to help maintain your vivo smartphone every vivo Service Day!
vivo Service Days are every 19th - 21st of every month and it offers a variety of freebies and maintenance to help your vivo smartphone stay in tip-top shape for as long as you are using it!
Since when were you a vivo user? Every vivo smartphone needs to get their phone checked from time to time and see if it needs further maintenance especially if there are issues present.
Aside from frequently optimizing your phone, checking the battery health, clearing our virus and malware through security scan, and space cleanups there is maintenance like no other when checked thoroughly and confirmed by our very own service engineers in our service centers.
Every vivo Service Day they offer free protective film application to refresh the appearance of your display screen, get it cleaned and clear like it's brand new! According to stock availability, free protective cover is also one of the freebies you get when your phone is checked or repaired on service days, whichever type of case that comes with your phone when you bought it you'll be getting the same one.
When was the last time you received a system update? Don't fret! You may have your phone checked at our service centers during service days because we offer free software upgrade to ensure that your phone is running on the latest update optimization fit for your vivo smartphone!
You may also want to check on your official vivo accessories such as charger cables, adapters, and earphones if they are still working because without it, your vivo smartphone won't be able to unleash it's potential to the fullest. Get your new official accessories at 10% OFF every service day.
Last but definitely not the least, whether you walk in just to have your phone checked or have it repaired all of these services are for free! Now you know when to visit our service centers to maximize your vivo after-sales experience with us! Check the nearest service center in your area here:
https://www.vivo.com/ph/support/service-center.
https://web.facebook.com/vivo.philippines/photos/1482868262090302