Are you looking for a Service Station in your area for phone repair or any other customer needs? We have authorized 123 Service Stations across Bangladesh.


On the support website, click on Service Center and find the closest support center in the list by selecting your city and town below. All the fully-trained vivo employees are at your service. Our technical team is here to help you with any issues or questions regarding your mobile device.


Click the link & select your nearest area for find out the authorized Service Station

https://www.vivo.com/bd/support/serviceCenter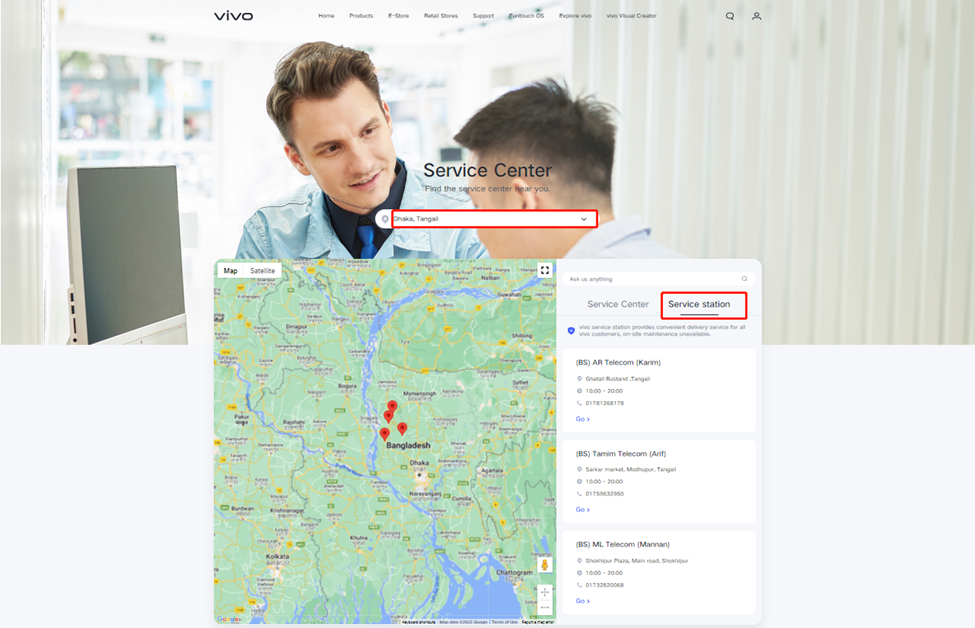 Visit your nearest vivo service center directly or book an appointment to see how you can get face-to-face support and customer-focused solution. For further device assistance or repair status check, you can make a phone call first for more details.

Service Process:

1.User will come to retail with his problematic handset and submit his handset to VBA & receive a receipt.
2.VBA will receive the handset and fill up the document.
3.After that VBA will courier the handset & form to local service center within that day or a day after receiving the handset.
4.Local service team receive the handset and contact to customer about service issue. After solving the problem local service team will send the handset to that shop.
5.VBA will receive the handset & give it to customer
6.By filling out a single form, you can easily avail the services from Service Station.
N.B: Service charges and delivery charges are completely free.

For more queries visit vivo Bangladesh service channel:
Website: https://www.vivo.com/bd
Facebook: https://www.facebook.com/vivoBangladesh
Email: service.bd@vivo.com
Hotline: +8809610991079
Live chat: https://rb.gy/dkvz3k