Light, Stylish, and Powerful: vivo Unveils X Fold2 and X Flip to Expand Foldable Flagship Lineup

vivo today announced the launch of two foldable flagship smartphones in China, vivo X Fold2, a new-generation large foldable smartphone, and vivo X Flip, the company's first small foldable device. Both vivo X Fold2 and vivo X Flip boast versatile features and exquisite sleek design, offering users a distinctive flagship experience.
"vivo is dedicated to creating premium foldable phones that offer the best user experience without compromising outstanding performance, battery life, and other essential features. Balancing technology and design is always a challenge for foldable phones, but vivo's commitment to design and innovation drives us to deliver products that exceed all expectations," said Huang Tao, Vice President of Product at vivo.
vivo X Fold2 offers upgraded performance in a lightweight design and a premier photography experience empowered by co-engineering with ZEISS. The newest member of vivo's foldable lineup, vivo X Flip, offers a touch of luxury, with a sleek, portable, fingertip-controlled folding design and powerful flagship performance.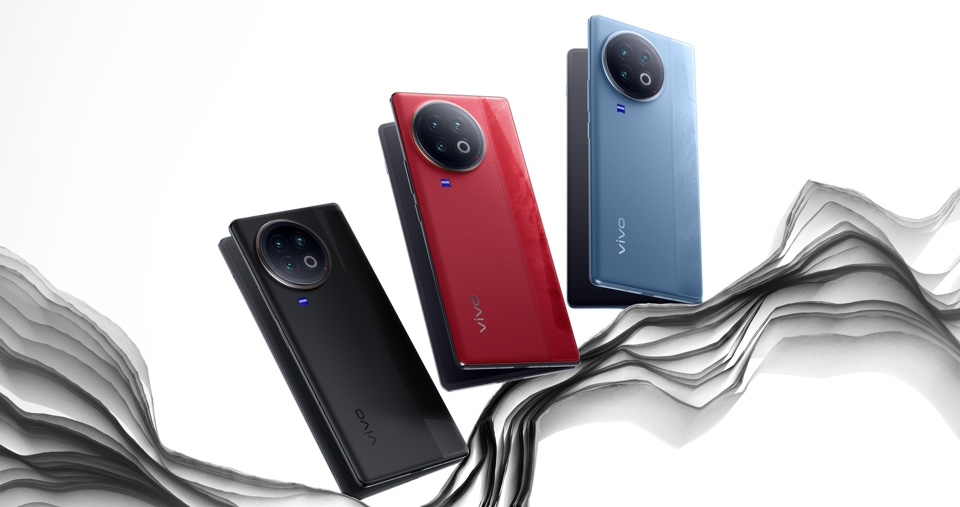 vivo X Fold2: A Perfect Blend of Versatility and Slim Look
vivo has always prioritized flagship performance and optimal user experience in the development of its foldable smartphones, starting with the first generation, X Fold. In its latest iteration, vivo X Fold2 not only features flagship specifications that rival those of non-foldable phones, but also has the advantage of a large display, offering an innovative experience. vivo X Fold2 sports an 8.03-inch E6 main display with 2K+ resolution and 1,800 nits of maximum brightness, making it one of the leading models among foldable smartphones. Both the main and cover displays support a refresh rate of 120 Hz.
The superior performance of vivo X Fold2 is powered by Snapdragon® 8 Gen 2 with enhanced SPU, LPDDR5X, and UFS 4.0. The smartphone has a 4800 mAh (typical) battery, with support for 120W dual-cell FlashCharge and 50W wireless FlashCharge, freeing users from low-battery anxiety. vivo X Fold2 also comes with other excellent features, including a 3D Ultrasonic Dual-Screen Fingerprint Scanning, and wireless lossless Hi-Fi.
vivo X Fold2 is around 33 grams lighter and 2 mm thinner than its predecessor X Fold, thanks to refinements in over 30 areas. The smartphone adopts a slim and durable hinge to enhance stability and fatigue resistance, achieving a 33% increase in longevity compared to its predecessor. The hinge obtained TÜV Rheinland certification for lasting performance even after 400,000 folds.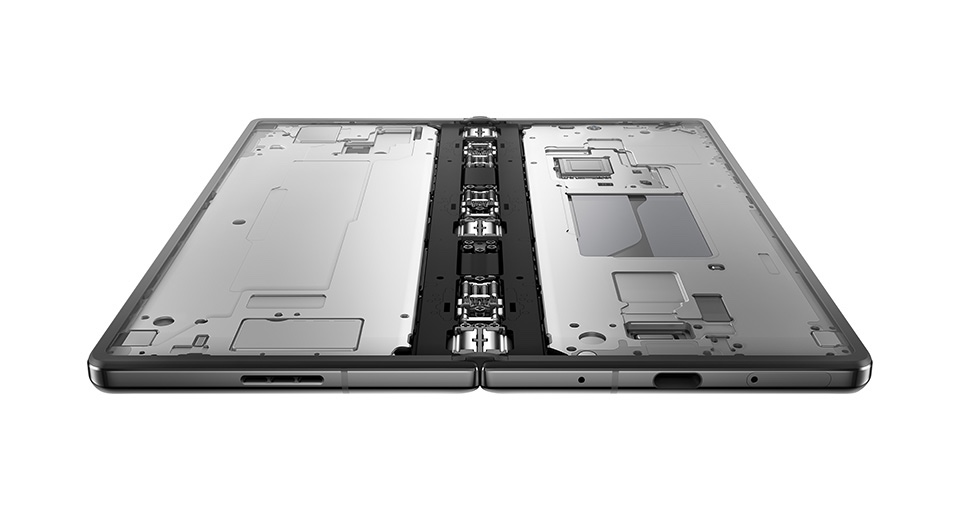 The device boasts a 50 MP VCS True Color Main Camera and offers a professional photography experience with ZEISS Cinematic Video Mode. The ZEISS Imaging with Free-Stop Shooting Experience allows users to capture stunning scenes like starry nights with just one tap in the hovering mode without the need for a tripod.
With a large display, the software design of vivo X Fold2 is customized to fit diverse working scenarios, making multi-tasking much easier. Its hovering features enable seamless window switching in different fold positions and support hovering video watching and hovering calling.
Available in red, blue, and black colorways, vivo X Fold2 follows the design language of its predecessor, combining vegan leather, glass and classic triangular pit patterns at the camera edges. The elegant, stylish design blends traditional Chinese culture with modern technology aesthetics.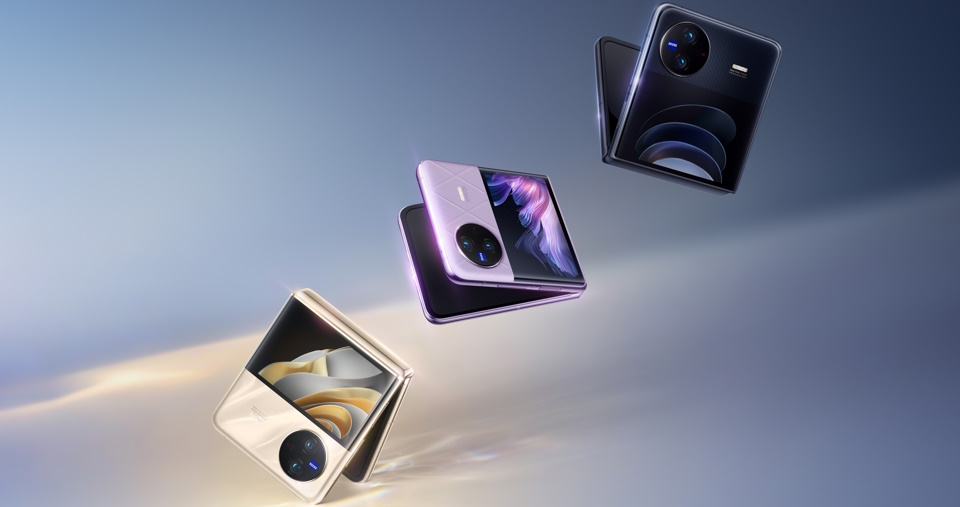 vivo X Flip: A Fusion of Style and Powerful Performance
As a new addition to vivo's foldable lineup, the compact foldable phone vivo X Flip stands out with its fashionable, elegant, and portable design. The device adopts an integrated design that incorporates two cameras in a Dual-Tone Step Design for a simplified visual effect. It boasts a large cover display, while a micro-arc on both sides creates a comfortable feel. The frame made of aerospace-grade aluminum alloy provides a lighter and more stable structure. With a bulge of just 3.15 mm thickness and a reliable structure, the ultra-durable lightweight hinge makes the device's delicate and elegant design possible. vivo X Flip is 7.75 mm thick when unfolded and roughly the size of a compact powder case when folded.
The device comes in three stunning colors, with Rhombic Purple taking center stage. The classic quilted lining and vegan leather infuse a hint of French romance, while the combination of unique stereoscopic leather and quilted curves gives the phone a light, sensual and shapely texture, exuding a chic and classic feel. Its wear-resistant and dirt-resistant nano coating and fingertip-controlled folding design mean the device stays virtually fingerprint-free. vivo X Flip also comes in Silk Gold and Diamond Black.
Empowered by ZEISS Imaging with Free-Stop Shooting Experience, the sophisticated vivo X Flip offers advanced imaging performance delivering a novel mobile photography experience. vivo X Flip boasts DV mode, whereby users are able to make classy vlogs and movie-like videos by using the phone horizontally, even in daily scenarios. The hovering time-lapse shooting feature allows users to shoot scenes like traffic and starry nights with just one tap and without using a tripod. With a 50 MP VCS True Color Main Camera, OIS technology and ZEISS Style Portrait, the device provides more tones and creative shooting methods, making it a superior small-size foldable in terms of imaging performance.
The unique Makeup Mirror with Aura Light on vivo X Flip is able to intelligently identify faces and show true-to-life makeup effects on the display. This feature enables users to conveniently try on different makeup styles and apply makeup effects on their faces when taking photos. The multi-angle hovering feature enables users to capture superior selfies that appear to be shot by someone else. The handheld HD shooting feature supports both vertical and horizontal photo taking, and the cover screen delivers a more convenient framing experience.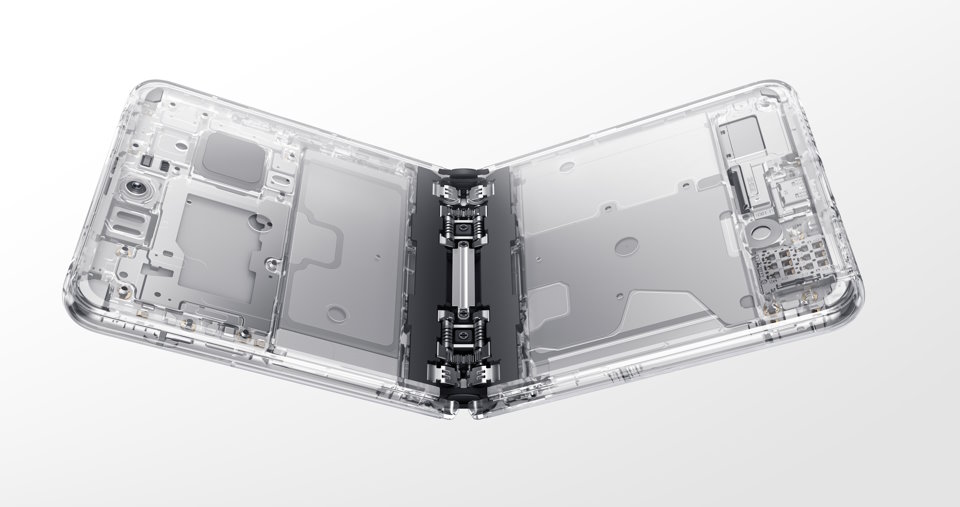 vivo X Flip also delivers a worry-free user experience — it has obtained TÜV Rheinland certification for withstanding 500,000 folds. Owing to the upgraded waterdrop hinge structure and UTG, the screen remains intact after strict folding tests. In addition, vivo X Flip comes with a 4400 mAh (typical) battery, with support for 44W FlashCharge, and industry-leading 4.5V high-energy-density battery technology. The slim phone doesn't compromise on battery life.
vivo X Flip features the powerful Snapdragon® 8+ Gen 1 mobile platform and a new eye protection screen. With a refresh rate of 120 Hz, LTPO adaptive refresh and high-frequency PWM dimming at 1920 Hz, the screen boasts excellent performance and helps protect the eyes and reduce visual fatigue.