The vivo V series comes to Europe following its great popularity across many global markets, and stands out from the crowd with a 44-Megapixel selfie camera with Optical Image Stabilisation
Unique Optical Image Stabilisation 44-Megapixel front camera for clear, high-quality selfies

Added features include AI Night Portrait, Super Night Mode, Advanced Autofocus and AI Eye Autofocus, Dual Selfie Spotlight flash and stabilised 4K video recording using the selfie camera

Sleek, fashionable design that's less than 7.29mm thin
vivo announces a new product in its European smartphone line-up – the vivo V21 5G. Following great popularity across many markets worldwide, the V series comes to European consumers, and stands out with its unique 44-Megapixel selfie camera, supported by a unique Optical Image Stabilisation system. Featuring a plethora of clever algorithms that enable capture of great shots in various environments, as well as a capable triple-camera setup on the back, the V21 5G targets consumers who put the front camera first.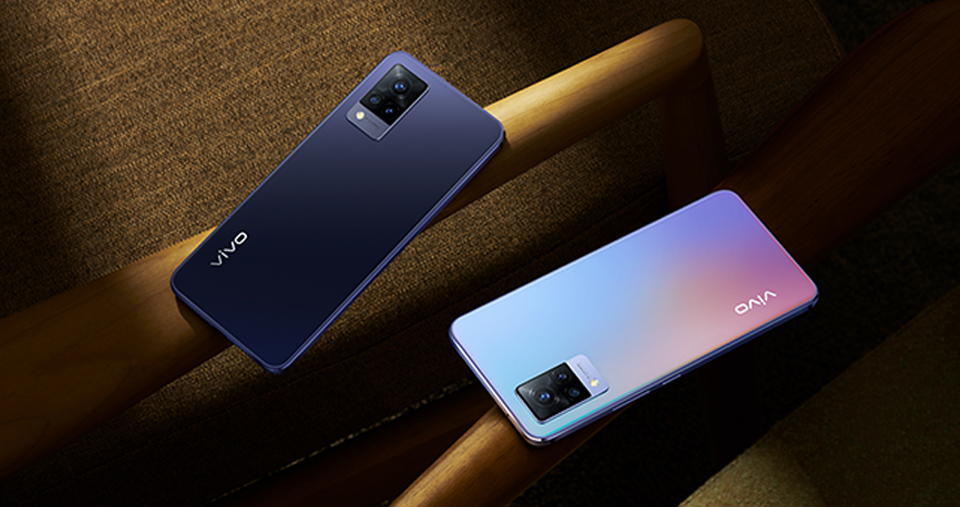 "At vivo, our smartphones are designed around our consumers' lifestyles which is why, as we live and share more online, we have placed the front camera first and innovated to help people achieve their perfect shot." said Denny Deng, Vice President, President of European Business at vivo. "The new V21 5G has been created for a world where interaction via video is a seamless part of private as well as professional life. This is why we have taken a strong step forward and redefined the standard for smartphone front cameras, by combining an optically stabilised 44-Megapixel front camera with outstanding features, so consumers can always present their best selves."
A unique front camera with Optical Image Stabilization and outstanding night vision
The V21 5G features a 44-Megapixel front camera with OIS (Optical Image Stabilisation) which, combined with Electronic Image Stabilization (EIS), AI Night Portrait, autofocus and a clever front spotlight system, creates a software-hardware synergy to capture clearer selfies and high-quality videos anytime, anywhere.
Capturing night shots, action shots and 4K videos, its front camera is designed to create a versatile imagery experience, even in environments where lighting is limited. The AI Night Portrait features a powerful artificial intelligence algorithm which reduces noise in dark environments, enables better focus and subjects' face clarity, while the OIS stabilizes the camera to enable greater light exposure.
Furthermore, the Dual Selfie Spotlight combines both the screen's soft light and built-in front flashes which are discreetly engineered into the top edge of the display, to make it even easier to capture great night photos and videos.
The V21 5G also features a capable 64-Megapixel OIS rear camera, supported by a set of secondary cameras to handle wide angle and more complex shots, as well as macro photography. The smartphone features creative software additions, such as a Dual-View option which records videos from both sides of the smartphone, advanced AI to augment facial features and a Double Exposure Function to let users' creativity shine through.
This unique package of features makes the V21 an ideal companion for an ultra-stable and smooth vlogging experience, through which users can interact with friends and family in any environment.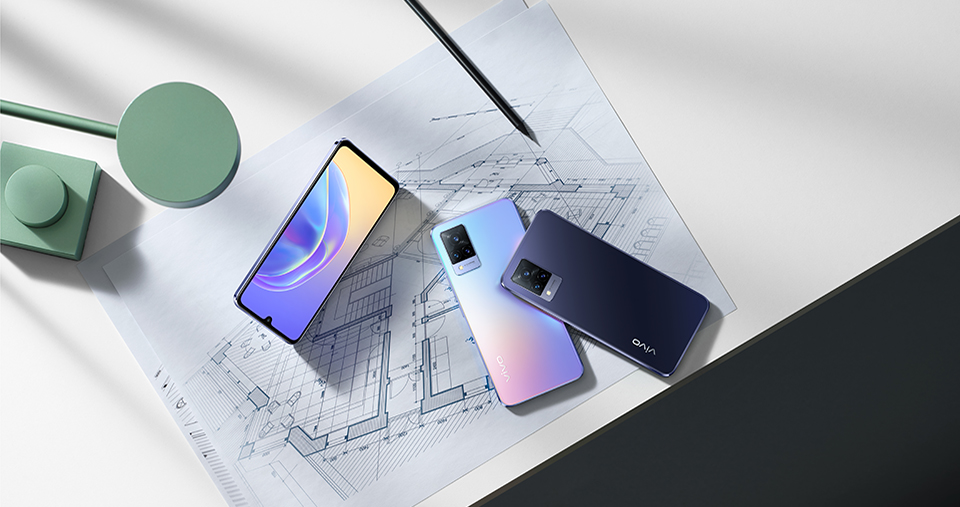 Experience fashionable sophisticated design
The sophisticated colourways and design of the V21 5G let users complete their look with a sleek, minimalist smartphone, elegantly housed in a body that's just 7.29mm thin and weighs around 175g*.
Thanks to vivo signature Dual Tone Step Design, the rear camera module appears lighter and simpler, while the back of the phone is completed with all-new anti-glare glass, in colours inspired by nature — Sunset Dazzle and Dusk Blue.
The smartphone packs an E3 AMOLED FullView™ Display with up to 90Hz** refresh rate, enabling optimal screen brightness, contrast, colour vividness, blue light eye protection, and more. Thanks to anti-glare glass, the V21 models have improved display readability in bright light and are less prone to show fingerprints and small scratches on the surface.
Advanced 5G experience to take mobile entertainment to new levels
The V21 5G model also brings a smoother, more efficient, and powerful connection experience for browsing and mobile entertainment with vivo's innovative 5G technology, ideal for users that demand a future-proof smartphone.
The smartphone reflects the company's major strides in industry-leading research and development in 5G technology. The dual-mode 5G phone, combining proprietary 5G antennae technology, consumes less power but is more powerful and more stable than single-mode 5G phones. Its fast 5G connectivity allows users to enjoy 4K UHD live streams and CPU-intensive games. All these features are powered through the smartphones' MediaTek Dimensity 800U processor. The 2.4GHz large core enables faster application start-up speed, with a high refresh rate for motion clarity and an enhanced gaming experience, while the 33W FlashCharge allows recharge of the devices 4000-milliamp battery in no time and stay on the move.
Notes to Editors:
* Measures and weight for V21 5G in Dusk Blue. The V21 5G in Sunset Dazzle measures 7.39mm, weighing in at 177g.
** Select applications or gaming interfaces may be displayed with a 60 Hz refresh rate due to reasons such as software compatibility.