The new V Series smartphone features an industry-leading front camera system and a unique colour-changing exterior
• 50MP front camera with Dual Tone Spotlight for the perfect selfie under all conditions
• Back of the smartphone changes colour when exposed to light
• Fast and reliable performance with 12 GB RAM + 256GB ROM
vivo brings its latest fashion-forward smartphone, the V23 5G, to Europe. The new member of the V-series stands out thanks to its advanced front camera system and incomparable design. Whether solo or in a group or during the day or at night, the V23 5G ensures that selfies are always in good light. But turn this smartphone over and it's clear that the V23 5G is also special when in the light: It changes colour from sunshine gold to coast green when exposed to UV light.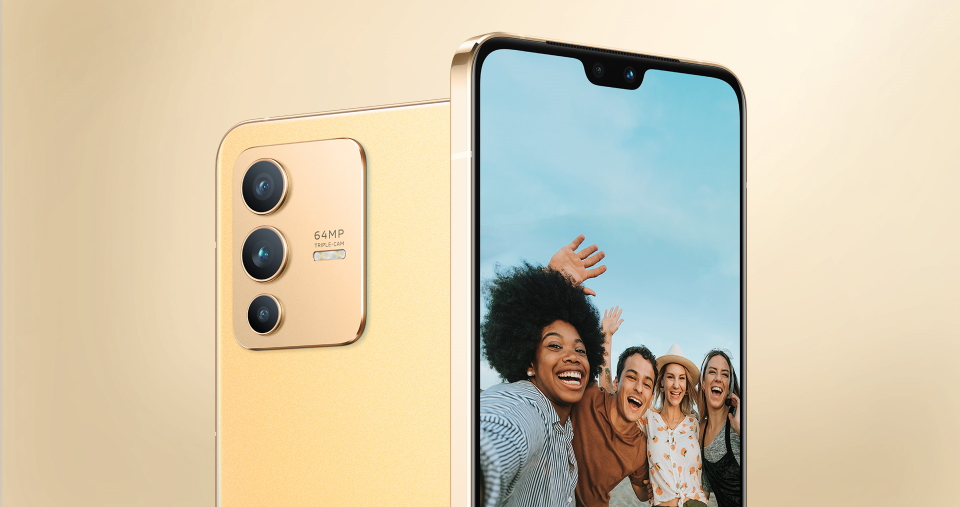 "At vivo, we believe extraordinary experiences can be enjoyed every day. By bringing together innovation, cutting-edge capabilities and eye-catching style, the V23 5G aims to delight and surprise and offer an inspirational way for users to highlight their style," says Denny Deng, Vice President, President of European Business at vivo.
Elevating selfies, portraits, and wide-angle shots
With its combination of a 50MP AF front camera and an 8MP super wide-angle lens, the V23 5G's Dual Selfie camera system lets users highlight themselves in a unique way. The combination of resolution, the customized JNV imaging Sensor and the integrated autofocus allows for clearer, more detailed photos and videos. Additionally, improved multi-frame noise reduction and AI high-definition technology ensure better photos in dark environments.
The V23 5G's Dual Tone Spotlight also helps users achieve perfect selfies whatever the exterior lighting conditions are, thanks to two LED lights on the front of the phone, which are nearly invisible when switched off, and four fill lights to create perfectly illuminated pictures. Low light images are enhanced as well by the front camera's AI Extreme Night mode allow for better shots in dark lighting. Meanwhile, the V23 5G's wide-angle selfie camera makes it easier to capture super wide group selfies with ease – even at night when Super Wide-Angle Night Portrait mode helps to capture atmospheric night-time party moments.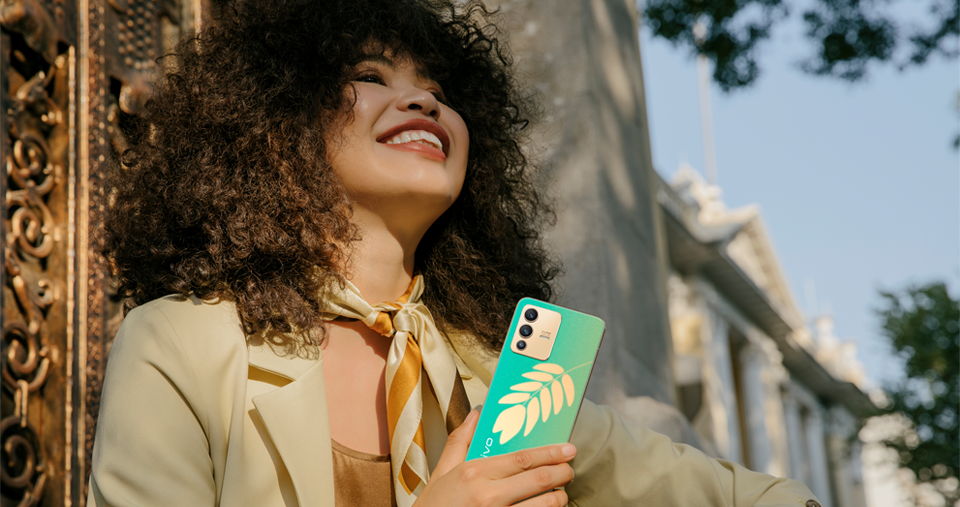 Eye-catching, colour-changing style
The V23 5G takes forward the V-Series distinctive focus on style – this time with a unique look and feel. The sleek style of the ultra-slim body shines with a special colour-changing glass surface, specially developed by vivo. This responds to UV light to change colours, shifting beautifully from warm comforting hues to cool, crisp tones(1). A Fluorite Anti-Glare finish provides a super fine and textured feel that is soft to touch yet resistant to fingerprints, while the one-piece metal flat frame is shaped to fit perfectly in the hand.
Enjoy a smooth user experience
vivo has also stepped up the hardware specifications of the V23 5G to deliver smooth performance that punches above its class. It features 12GB RAM + 256GB ROM, powered by the MediaTek Dimensity 920 processor, to maintain vivo's history of delivering a premium experience, fast app start-up and installation speeds. Mobile gamers can enjoy super smooth performance with a 90Hz refresh rate display, a Liquid Cooling System and Ultra Game Mode for cool gaming on the go. The Extended RAM 2.0 feature enables devices to draw up to 4GB of virtual memory for a smoother user experience. The new V23 5G also features a 44W FlashCharge capability that can power up the super-slim 4200mAh (TYP) battery quickly and efficiently.
Get creative to find your Perfect Shot
The V23 5G also features a breadth of tools to make unique and creative images and videos – including from its triple rear camera module. This consists of a 64MP main camera, an 8MP super wide-angle camera and a 2MP super macro camera and it supports Super Night Mode to deliver exceptional performance in the dark.
Picture quality can be enhanced further with the Bokeh Flare Portrait feature for both front and rear cameras. In addition, the dual camera bokeh effect for the V23 5G's front camera allows users to achieve the highly-desired professional 'background blur' in still images — a prized feature that eludes most single camera technology in the industry today.
Stylized portraits pop with the new Party Portrait feature to capture captivating party scenes and the Multi Style Portrait feature for more fun ways to capture special moments. The new Natural Portrait feature caters to a spectrum of selfie needs with its optional beautification features, AI algorithms to enhance face details, as well as dual-tone spotlight elements.
The V23 5G also features AI Face Beauty mode as part of the 4K Selfie Video feature with boosted post-editing capabilities to touch up faces and visuals. Support for 4K selfie videos means users can now also record videos more easily and enjoy greater flexibility when editing.
-
(1) The colour-changing exterior is only applicable to the Sunshine Gold edition.