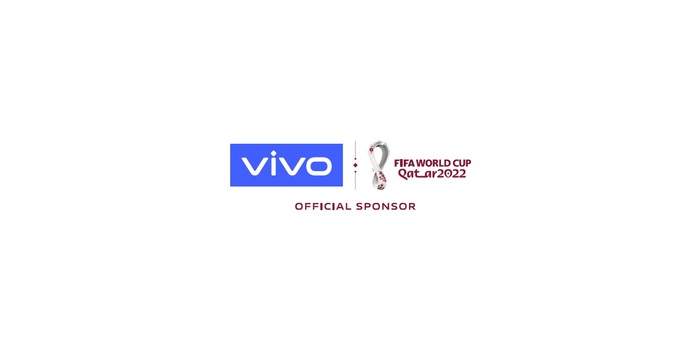 • vivo is committed to creating an extraordinary experience for football lovers with technology, connecting people around the world.
• Aims to raise brand awareness overseas by stepping up its globalization strategy.
vivo, the innovative global smartphone brand, announced its partnership with the most prominent international football tournament, the FIFA World Cup Qatar 2022™, as the Official Sponsor and the Official Smartphone.
Aligned with the brand's pursuit to deliver excellence, vivo aspires to connect fans around the world with the FIFA World Cup Qatar 2022™. Through this partnership, vivo will leverage its rights to the FIFA World Cup 2022™, including the emblem, official brand identities, and run unique promotions to connect with passionate football fans globally.
Expressing excitement on the partnership, Yogendra Sriramula, Director Brand Strategy, vivo India, said, "This collaboration with the FIFA World Cup Qatar 2022™ is a defining moment for vivo. Football, termed as the 'Beautiful Game' has the power to bring joy to billions around the world and bring them together regardless of their age, race, gender, culture, or nationality. Indeed, it has a truly global reach, and has the ability to influence and inspire billions across the globe, making the iconic FIFA World Cup™ an ideal stage for vivo, as we expand our presence across more than 60 countries and regions across the globe."
This partnership reflects our inherent value of promoting sports that help inspire joy among millions and provide a unique experience for consumers worldwide."
The FIFA World Cup™ is one of the most prestigious sports tournaments across the globe, which began in 1930. It has since created a special place in the hearts of football fans globally. This year, the tournament will take place in Qatar, beginning on 21 November 2022.
PR Contact:
| | | |
| --- | --- | --- |
| vivo | Areeb Anwar | Areeb.anwar@vivo.com |
| Archetype | Swati Goswami | Swati.goswami@archetype.co |
About vivo
vivo is a technology company that creates great products based on a design-driven value, with smart devices and intelligent services as its core. The company aims to build a bridge between humans and the digital world. Through unique creativity, vivo provides users with an increasingly convenient mobile and digital life. Following the company's core values, which include Benfen*, design-driven value, user-orientation, continuous learning and team spirit, vivo has implemented a sustainable development strategy with the vision of developing into a healthier, more sustainable world-class corporation.
While bringing together and developing the best local talents to deliver excellence, vivo is supported by a network of R&D centers in Shenzhen, Dongguan, Nanjing, Beijing, Hangzhou, Shanghai and Xi'an, focusing on the development of state-of-the-art consumer technologies, including 5G, artificial intelligence, industrial design, imaging system and other up-and-coming technologies. vivo has also set up an intelligent manufacturing network (including those authorized by vivo), with an annual production capacity of nearly 200 million smartphones. As of now, vivo has branched out its sales network across more than 60 countries and regions, and is loved by more than 400 million users worldwide.
*"Benfen" is a term describing the attitude on doing the right things and doing things right – which is the ideal description of vivo's mission to create value for society.
Stay informed of latest vivo news at https://www.vivo.com/en/about-vivo/news