As the tournament closes with an exciting final and a grand closing ceremony at Wembley, vivo shares highlights captured pitch-side and beyond.
With the conclusion of the closing ceremony of UEFA EURO 2020™ on 11th July, presented by vivo, fans everywhere have had nearly a month of perfect moments around the beautiful game. Throughout the tournament, vivo has been helping to encourage and enable people around the world to be in the moment and get closer to the action, as they connect and celebrate with friends, family, and fellow fans. For England, the tournament has been a particularly special one. As fans celebrated several Wembley victories, vivo captured the perfect moment of the tournament thus far as composers of the famous anthem Three Lions - David Baddiel and Frank Skinner celebrated with the home fans as England surpassed Germany to head into the quarter finals.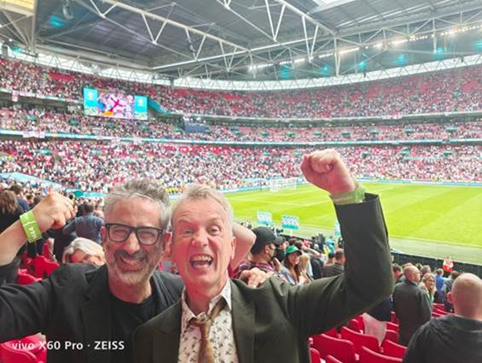 As the first-ever presenter of the EURO 2020 Closing Ceremony, vivo presented a uniquely spectacular championship finale at Wembley Stadium, integrating state-of-the-art AI technology and exceptional performances for the event's millions of global spectators. As one of the first large-scale sporting events following a year of social distancing, the EURO 2020 was the most technologically advanced European Cup in the championship's six-decade history, catering to the high expectations and passion of fans across the world.
Before the tournament, vivo debuted its "To Perfect Moments" campaign and invited fans to channel their energy into the game by sharing their applause and cheers on social media. The content generated by fans was featured during the EURO 2020 closing ceremony. As the official partner of the tournament, vivo also used its proprietary AI technology to repair memorable photos of famous moments in the storied tournament's history. vivo presented the restorations of these beautiful moments to UEFA as an official gift for the 60th anniversary of the UEFA European Football Championship.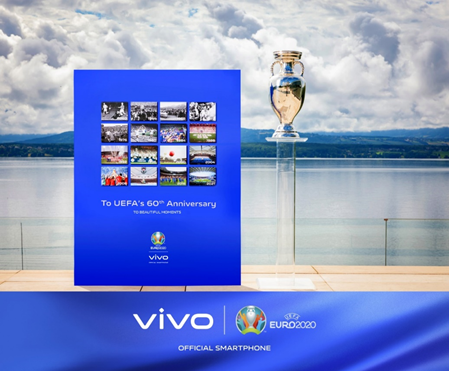 revived photos of famous moments in the tournament's history by vivo's AI technology
Speaking following the closing ceremony, Spark Ni, senior vice president and CMO of vivo, highlighted "Our brand is thrilled to have helped make moments around the beautiful game a little more magical for our users, followers and fellow fans. Throughout the tournament, it has been amazing to connect with people across the globe and we look forward to channelling this passion into our continued partnership with UEFA."
Denny Deng, Vice-President, President of European Business, added "We share the passion of football with our consumers across Europe. That is why UEFA EURO 2020™ is one of our key marketing milestones this year, and we are pleased to have been able to engage with people both online, and at matches across the region.
For vivo in Europe, the tournament has seen the culmination of many months of planning and activations – online across the company's rapidly expanding social media footprint, in many of our partner retail outlets, as well as in fan zones and stadia across Europe. We have already seen an increase in our brand awareness, which we can attribute at least in part to the great activations we have delivered - and are confident that the tournament will contribute to increased consideration by consumers as we continue to grow our business in Europe.
Just eight months after starting activities in the continent, we are now active in 10 European markets, which underlines our commitment to the countries we operate in and lays the foundations for our continued growth in the region".
###
About vivo
vivo is a leading, product-driven, global technology company, with its core business focusing on smart devices and intelligent services. vivo is committed to connecting users around the globe, through design of exciting and innovative smartphones and companion devices, as well as services which integrate technology and design thinking in unique and creative ways. Following the company core values, which include innovation, consumer orientation and benfen*, vivo has implemented a sustainable development strategy, with the vision of becoming a leading, long-lasting, world-class enterprise.
With headquarters in China, supported by a network of 10 R&D centres in Shenzhen, Dongguan, Nanjing, Beijing, Hangzhou, Shanghai, Xi'an, Taipei, Tokyo, and San Diego, vivo is focusing on the development of state-of-the-art consumer technologies, including 5G, artificial intelligence, industrial design, photography, and other up-and-coming technologies. vivo has also set-up five production hubs (including a brand authorised manufacturing centre), across China, South- and Southeast Asia, with an annual production capacity of nearly 200 million smartphones. As of now, vivo has branched out its sales network across more than 40 countries and regions and is loved by more than 400 million users worldwide.
*"Benfen" is a term describing the attitude on doing the right things and doing things right – which is the ideal description of vivo's mission to build technology for good.
Please stay informed of vivo news at https://www.vivo.com/uk/about-vivo/news
Press contacts:
Director PR
T: +49 174 977 33 87
Ivan Polojac, vivo Europe
Senior Manager PR, Brand and Corporate
T: +49 1523 73 95 844
Lei Sang, vivo Europe
Senior Manager PR, Product Communications
T: +49 152 3739 5868
For UK enquiries:
Jon Shaw
Porter Novelli
T +447967998084