Two imaging strategies for more human-centric and professional imaging experience presented

• Video imaging technology matrix announced, treading new frontiers
• Focus on human-centric and professional imaging experience
• Enhanced joint innovation with global imaging partner ZEISS
vivo officially announced the video imaging technology matrix: Focussing on three key imaging capabilities and based on two strategic supporting pillars of joint and independent innovation, vivo strives to create a competitive advantage in the increasingly homogeneous imaging field, and to build a technical singularity for mobile imaging.

In mobile imaging era, mobile phones have become an extension of people's senses, assisting human eyes to capture, record and tell our own stories through lenses. Over the years, vivo has been treading new frontiers in imaging, and continued to innovate in technical aspects of optics, computing power, and algorithms. To constantly provide consumers with a human-centric and professional imaging experience, vivo focuses on user pain points, polishing capabilities in colour, night scene, portrait, sports, and video modes among others.
vivo Imaging Technology Matrix Released
In order to bring consumers a satisfactory imaging experience, vivo released the imaging technology matrix. The imaging technology matrix sets a new standard for the imaging function of products to compete on a professional level, no matter whether professional devices, professional photographers, or professional post-production.

To compete with professional devices, vivo has created several major imaging technology modules, including Optical Sensing System, Colour Restoration Engine and Accelerated Computing Engine, which enable smartphones, like professional equipment, to efficiently record and process image colour, tone and quality information from light capture to achieving excellent basic imaging quality.
vivo's environment perception technology empowers consumers to perceive the environment through the eyes of professional photographers, enabling them to recognize the scene colour temperature, lighting and other information, and automatically judge and analyse the best way to capture images. With the support of VCS Bionic Spectrum Technology, ensuring better control image noise and colour restoration, the next-generation sensor equipped with VCS technology improves the signal-to-noise ratio by 20% and colour restoration by 15%, compared to the previous generation IMX866 sensor.
The Hyper-Sense Portrait System and Vast-Sky Night System focus on two key scenarios, portrait and night scene, to achieve precise semantic extraction and optimization. This greatly enhances the scene's expressiveness and lifts smartphones to a professional post-production level. The new Vast-Sky Night System, based on the independently developed AI algorithm and improved lens sensor, can optimize the photo sensibility by 100%, with ISO up to 102400. This enables consumers to take long exposure of a starry night sky, which previously had to be done with a tripod or stabilizer, and is now easy to take with a handheld phone. In addition, vivo also introduced the Hyper-Sense Portrait System. This is a complete set of portrait photography solutions that understands the portrait information, optimizes the portrait details at a micron level, and creates a unique portrait atmosphere due to the independently developed algorithm.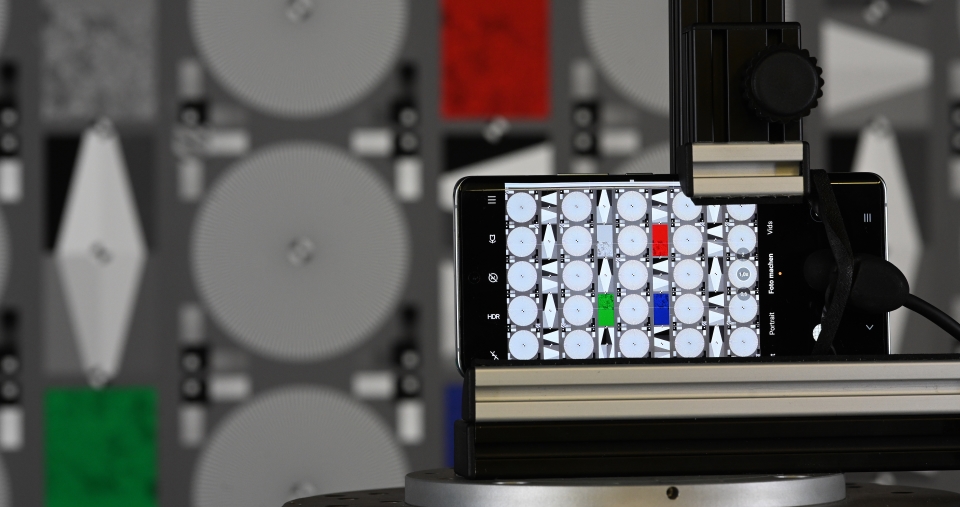 Innovation made by vivo: vivo's next generation customized chipset
On the hardware level, vivo introduced its latest generation of customized imaging chipset. Facing the more complex application scenarios of smartphone multi-camera systems, the new generation of customized imaging chipset will adopt the AI-ISP architecture, bringing the low latency and high efficiency of traditional ISP into the AI real-time processing computing architecture. Its innovative 10-bit MAC circuit is customized to efficiently perform 10-bit operations, reducing inference latency by up to 96% compared to traditional NPUs, and improving energy efficiency by up to 200%.

Based on the innovative AI-ISP architecture, vivo's next generation customized chipset includes three customized unit upgrades to achieve innovative breakthroughs: First, the upgrade of on-chip memory unit brings a data throughput rate of 1.3 trillion bits per second, with a powerful computing power guarantee. Second, the upgrade of AI computing unit enables an unprecedented ultra-high energy efficiency ratio. In addition, the peak energy efficiency ratio of DLA gas pedal reaches 16.3 trillion operations per watt, setting a new computing power milestone in the industry. Thirdly, the image processing unit has been upgraded to enhance the algorithm effects such as AI-NR noise reduction, HDR tone fusion, and MEMC frame interpolation, enabling a better photo capture experience for consumers. Furthermore, vivo showed its upcoming larger CMOS sensor for next-generation products, which has 77% more light-sensitive capability than GNV.
Joint innovation with global imaging partner ZEISS
The imaging technology matrix was realized with the underlying core competence that vivo has built for a long time. In 2020, vivo and ZEISS established their global imaging partnership. In the future, based on the cooperation in optical imaging technology, the two partners will further develop mobile imaging optical quality standards, and explore and realize camera module miniaturization. The joined cooperation strives to create more exciting mobile imaging experiences and will take the performance of mobile photography to a new level.

Multi-scenario application of imaging technology improving professional creativity
To provide human-centric and professional imaging to its consumers, vivo has being committed to empowering everyone with complex professional imaging capabilities. Based on the scenarios of users' photography needs, vivo focuses the technology on the three core scenarios of landscape, portrait and video that users are most concerned about. Based on its research and advanced development of both software and hardware technologies, vivo covers more comprehensive experience scenarios for image creators and enables improved imaging experience. The performance of vivo smartphones in colour, tone and image quality are three important dimensions of professional photography. In order to improve the ability of these three dimensions, vivo has built up the pathway of "real world - imaging system - post-processing algorithm" through the imaging technology matrix, relying on environment perception technology and Colour Restoration Engine.

The advantage of smartphone photography is that it can really enter the life of others, and good portrait works need to deal with the three core factors of portrait understanding, portrait beautification, and portrait atmosphere. In addition to making the skin look and feel more natural and healthier, vivo's portrait processing technology also better preserves the three-dimensional sense of the five senses, and carries out the integration processing of people and scenes at the level of tone, colour, brightness and bokeh to achieve a harmonious and natural effect of people and scenes.
In terms of video capturing technology, vivo has simplified the LOG mode and the complex post-production colour mixing process, and realized HDR standard video recording and display with dynamic metadata, supporting a wider BT.2020 colour space, 10bit colour depth, and 1.07 billion colours. By this, vivo can better restore the atmosphere of light and shadow, with a variety of cinematic 3D LUTs colour style, so that consumers can create a cinematic experience by one click.
vivo has built a full-link imaging technology matrix covering optical photography and computational photography to compete on a professional level. The vivo ZEISS co-engineered imaging system, customized algorithm and chipset, and additional software and hardware system upgrades greatly improve the performance of colour, tone, and image quality, so that consumers can experience full, vivid, lively and dynamic real-life images, no matter whether landscape photos, portraits, or videos. For the future, vivo will continue to bring innovative mobile imaging technologies to consumers.