Healthy first, flexible first: The lingering pandemic situation means people need more safety and flexibility in their daily work. The transformation of the everyday life will accelerate in 2022 and beyond – and smartphones are at the centre when it comes to convenience of connectivity, merged with breakthrough technologies. As a global industry leader, vivo is constantly working on progress in design and technology, with the consumer at the very heart of every meaningful innovation. But what are engineers, thought leaders and pioneers in the smartphone world working on? Which technologies are around the corner? What are the industry trends to watch out for? Peek at the innovations developed today that will reshape the tomorrow.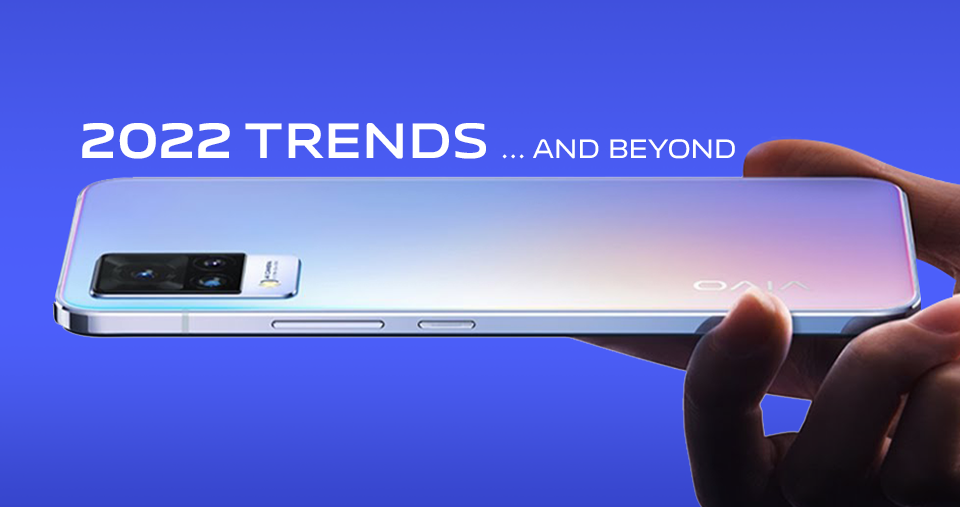 The future of mobile imaging
Advanced camera technology is one of the biggest differentiators in the smartphone industry. In 2022 and beyond, optical innovation will be a key area in research and development to take smartphone photography and videography to the next level. vivo is spearheading this trend through its long-term partnership with the pioneer in optics and optoelectronics, ZEISS. In the vivo x ZEISS Imaging Lab, R&D teams from both companies join forces to combine unique optical know-how with vivo's expertise in smartphone development. The result: Unique features from professional imaging devices can be adapted to vivo's flagship smartphones. For example, vivo has already introduced high-transmittance glass lenses, linked with advanced coating technologies for high-quality imaging.
Computing photography
Smartphones continue to push the boundaries of camera hardware. In the future, image processing and software capabilities will play an increasingly important role in driving technology innovation forward. vivo has entered the era of hardware-level algorithms with the introduction of the V1 imaging chip, setting foundations for a computing photography trend that we will see more of in 2022 and beyond. The V1 chip combines a high-quality AI system with great improvements in speed and power consumption. Consumers might not see the improved silicon in their smartphones, but they will feel the difference in performance, photography, and videography in the future.
AI performance in smartphones will double
In 2022, vivo engineers predict AI performance to double, bringing multiple technology visions to reality. Research in the vivo AI lab is covering multiple areas of innovative smartphone technology and performance, including camera systems, natural language processing, speech, machine learning, knowledge graphs and intelligent engines. For example, semantic analysis in language processing or image semantic understanding in computer vision will develop further, as well as the optimization of smartphone performance through the dynamic and intelligent allocation of resources. Other areas are intelligent computing power scheduling and power consumption optimization. In general, improved AI algorithms will result in better user experiences. Consumers may not know these technologies exist, but they already serve in every smartphone feature from photography to performance, computing power and battery life.
Miniaturization, even in mid-range in smartphones design
With over 12.000 people working in 10 R&D centres around the globe, vivo is constantly exploring various shapes and sizes of smartphones, including foldable, bendable, and rollable devices. However, looking at usage scenarios in the workplace and at home, designers still favour the traditional "bar shape" as the most useable, accepted, and functional design. vivo is an example of a company taking the miniaturisation trend even to mid-tier devices: Through combining ultrathin components, vivo provides a sleek, minimalistic design for handheld devices. A recent example is the V21 5G, being only 7.29mm* thin and weighing a mere 176g. For this device, vivo has developed a total of seven technological milestones, including the company's thinnest motherboard, SIM card holder, thermal shield, and cooling plate to date.
5G will double to 1.34 billion connections
The rollout of 5G technology and infrastructure will continue as a strong trend in 2022, continuing to change the way people work and live. The first beneficiaries will be the owners of 5G smartphones – not just through Ultra HD streaming, mobile gaming, Augmented and Virtual Reality, but the connection of millions of devices to the Internet of Things, making smart cities, automated factories, and seamless payments a reality. According to CCS Insight [1], adoption will more than double to 1.34 billion 5G connections in 2022. vivo has been a key advocate of 5G for years, paving the way for a fully digitalized and connected world with its more than 3000 5G patents applied, and submitting over 5500 technical proposals to the 3GPP. The company has developed a fleet of 5G smartphones in every price range and is driving technology and standardization.
6G: Merging digital and physical worlds
While 5G is rolling out globally, vivo is already thinking about the next chapter of mobile broadband. 6G is predicted to enable mind-boggling speeds of one Terabyte per second, supporting vivo's vision of a ubiquitous network that will seamlessly merge digital and physical worlds. The company has officially started research by helping to define how consumers can benefit from the new technology and setting out recommendations for peak data rates, latency, and energy efficiency. 6G could embed connectivity into virtually everything, from buildings to smartphones to tiny insect-scale robots. A report by ABI Research [3] predicts that early commercial deployment will occur in 2028, with widespread rollouts in the years after.
[1] CCS Insight, 5G connections worldwide: https://www.ccsinsight.com/press/company-news/5g-progress-continues-but-mobile-phone-supply-concerns-remain-a-risk/
[2] Statista: Forecast numbers of mobile users worldwide from 2020 to 2025: https://www.statista.com/statistics/218984/number-of-global-mobile-users-since-2010/
[3] ABI Research: Early Commercial 6G deployments: https://www.abiresearch.com/press/early-commercial-6g-deployments-could-start-early-2028-standards-expected-2026/
*The measured thickness of the phone does not include the camera protrusion. The body thickness & weight of the V21 5G "Sunset Dazzle" is 7.39mm & 177g. "Dusk Blue" is of 7.29mm thickness & 176g weight. Actual dimensions and weight may differ due to variations in processes, measurement method, and material supplies.