vivo, the leading technology brand, had earlier announced itself as the official sponsor for the FIFA World Cup Qatar 2022™. With an aim to ensure an immersive FIFA experience for its users and audience, vivo has launched the 'Give It a Shot' campaign which will run in two waves. The innovative first wave runs from now until November 16 and gives supporters the opportunity to post unlimited photos or videos with vivo or football elements on their Instagram accounts. Whereas, the second wave will commence on November 14 until December 31 and aims to bring people together on Facebook, Instagram, and TikTok during the FIFA World Cup Qatar 2022™, to share moments worth celebrating with special vivo filters. The filters can be used to film social challenges with new friends from around the world. vivo is all set to make this FIFA experience an exciting one for fans across the world.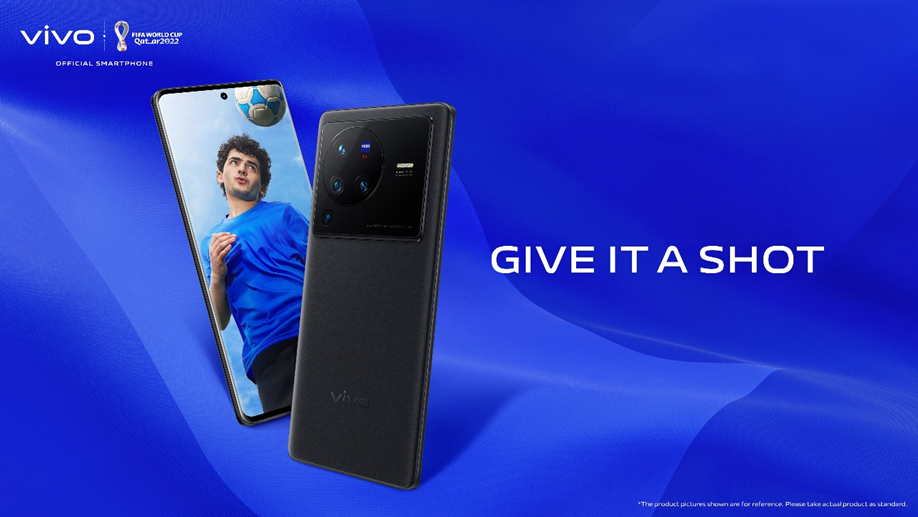 Building customer loyalty and driving authentic conversations with the consumers has been at the core of the vivo's brand values. Pledging to the consumer centric approach of vivo, the campaign aims at engaging the community of football fans with the opportunity to win exciting prizes. The FIFA World Cup is a season of excitement and anticipation, that binds people across the world. It is filled with breath taking moments that deserve capturing in frames. vivo will bring people closer together with the #vivogiveitashot campaign which allows participants to win vivo prizes by capturing one such photograph or video on their smartphones. It encourages users to share their passion and creativity with the world. Participants can use any smartphone to participate in the campaign, but it is recommended to use vivo smartphones to win exclusive gifts.
To ensure ease and encourage engagement, vivo has made the process of participation easy and effortless. The participants simply need to share a vivo and football themed photograph or video, including vivo and FIFA elements and tag the official vivo Instagram page to their entries with the #vivoGiveItaShot on their Instagram. It is that easy to double the joy of this football season and kick it off by winning exclusive gifts. The 10 best and most creative entries will be rewarded with a vivo smartphone and a FIFA football. Participants have an opportunity to express and connect with a community of passionate football fans, along with a chance of winning prizes for the same.

The imaging capabilities of vivo smartphones provide the ideal tools for the expression of passion and individual creativity. vivo has proved to understand the value of sharing in today's day and age and has integrated this awareness into its products by equipping them with powerful camera setups to allow users to capture memorable moments and share their joy with others. This campaign empowers participants to make the most of their smartphone cameras by experimenting with different styles, perspectives and angles.
The campaign is vivo's effort of promoting smartphone photography, creating a space for rewarding the creative pursuits of young individuals, and strengthening ties with its consumers. As the official smartphone sponsor of the FIFA World Cup Qatar 2022™, vivo's campaign is sure to kick start the event with much enthusiasm and vigour.
Furthermore, vivo will also launch the #vAreHereToShare campaign from December 15 to 18 to drive engaging conversations as the grand finale of the tournament approaches. In addition to providing fans with a platform to discuss the semi-finals and final of the FIFA World Cup Qatar 2022™, the campaign will instigate cross-border exchanges of FIFA memories amongst families and friends, no matter where they are in the world.
About vivo
vivo is a technology company that creates great products based on a design-driven value, with smart devices and intelligent services as its core. The company aims to build a bridge between humans and the digital world. Through unique creativity, vivo provides users with an increasingly convenient mobile and digital life. Following the company's core values, which include Benfen*, user-orientation, design-driven value, continuous learning and team spirit, vivo has implemented a sustainable development strategy with the vision of developing into a healthier, more sustainable world-class corporation.
While bringing together and developing the best local talents to deliver excellence, vivo is supported by a network of R&D centers in Shenzhen, Dongguan, Nanjing, Beijing, Hangzhou, Shanghai and Xi'an, focusing on the development of state-of-the-art consumer technologies, including 5G, artificial intelligence, industrial design, imaging system and other up-and-coming technologies. vivo has also set up an intelligent manufacturing network (including those authorized by vivo), with an annual production capacity of nearly 200 million smartphones. As of now, vivo has branched out its sales network across more than 60 countries and regions and is loved by more than 400 million users worldwide.
*"Benfen" is a term describing the attitude on doing the right things and doing things right – which is the ideal description of vivo's mission to create value for society.
Stay informed of latest vivo news at https://www.vivo.com/en/about-vivo/news