vivo topped 5G smartphone shipments for Asia Pacific in the second quarter of 2021, according to Strategy Analytics[1]. The achievement is vivo's first time taking the top spot for Asia Pacific 5G Shipments during a single quarter. The brand captured one in five 5G shipments in the Asia Pacific region, with annual shipment growth of 215 percent. vivo's combination of leading technology and high quality has made its smartphones the most popular 5G devices in the region.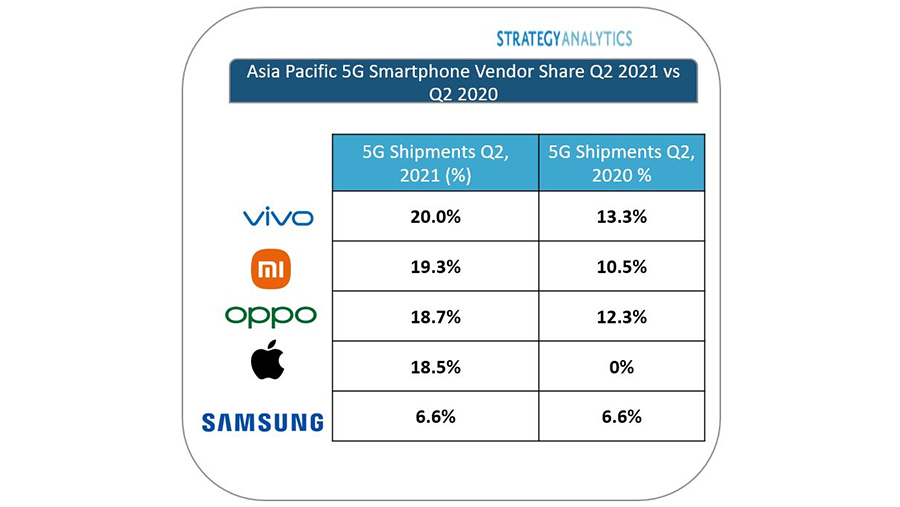 Earlier this year, Strategy Analytics noted that vivo had become the second-fastest growing 5G smartphone vendor in the world[2], and maintained its strong momentum through the first quarter of 2021. By making remarkable progress in 5G standards and core technologies, vivo is committed to providing consumers with a growing variety of 5G mobile phones and improved 5G experiences.
END
About vivo
vivo is a technology company that creates great products based on a design-driven value, with smart devices and intelligent services as its core. The company aims to build a bridge between humans and the digital world. Through unique creativity, vivo provides users with an increasingly convenient mobile and digital life. Following the company's core values, which include Benfen*, design-driven and user orientation, vivo has implemented a sustainable development strategy, with the vision of becoming a healthier, longer-lasting world-class corporation.

While recruiting and developing the best local talents, vivo is supported by a network of 10 R&D centers in Shenzhen, Dongguan, Nanjing, Beijing, Hangzhou, Shanghai, Xi'an, Taipei, Tokyo and San Diego, focusing on the development of state-of-the-art consumer technologies, including 5G, artificial intelligence, industrial design, photography and other up-and-coming technologies. vivo has also set-up five production hubs (including brand authorized manufacturing center), across China, South- and Southeast Asia, with an annual production capacity of nearly 200 million smartphones. As of now, vivo has branched out its sales network across more than 50 countries and regions, and is loved by more than 400 million users worldwide.
*"Benfen" is a term describing the attitude on doing the right things and doing things right – which is the ideal description of vivo's mission to build technology for good.

Please stay informed of vivo's news at https://www.vivo.com/en/about-vivo/news

---
[1] Source: Global 5G Smartphone Vendor Market Share by Region : Q2 2021
[2] Source: Strategy Analytics: Samsung and Vivo are World's Fastest Growing 5G Smartphone Vendors in Q1 2021