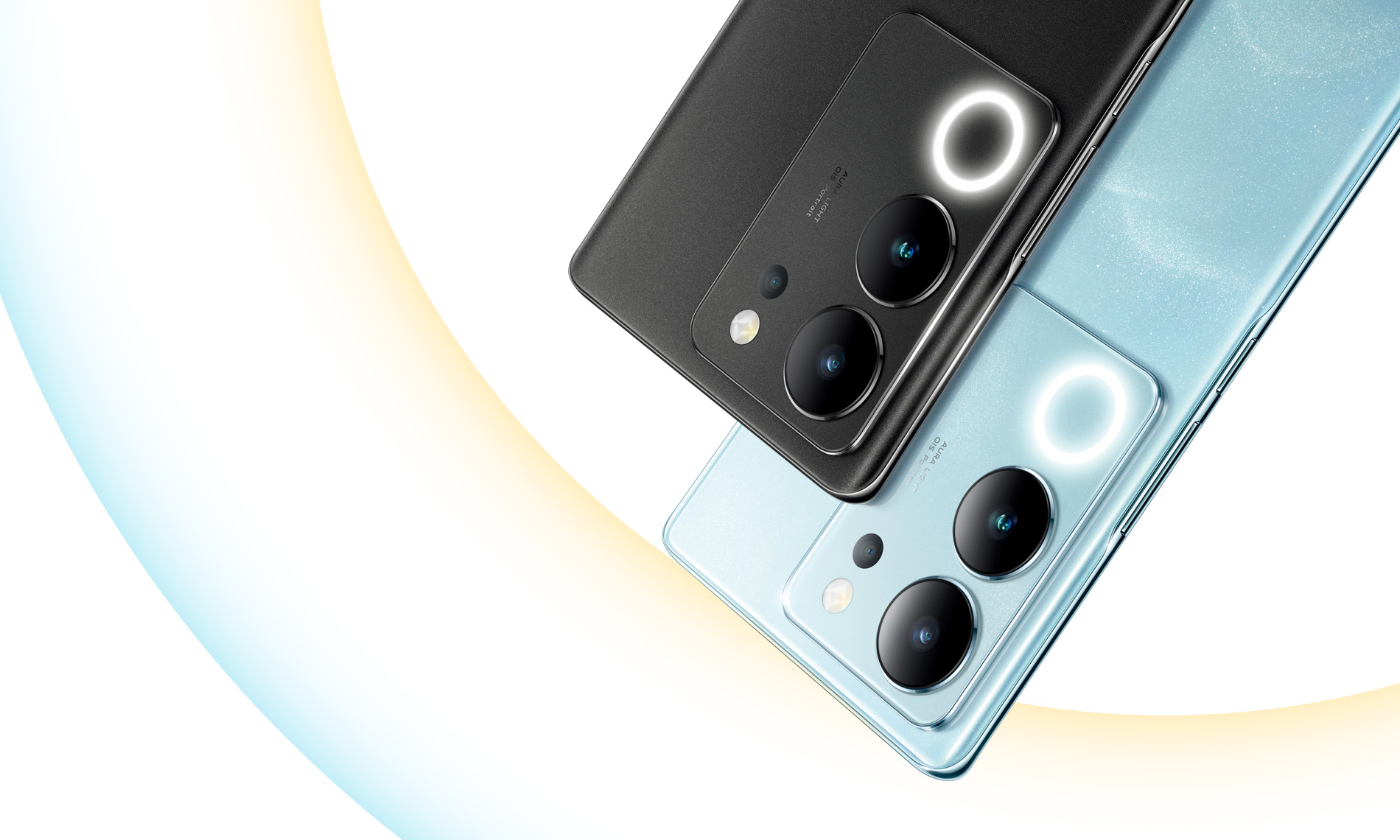 Coming to Europe first: Equipped with an Aura Light, the mid-range device offers professional portrait shooting capabilities in low-light
vivo has unveiled its latest V series device. The V29 will be launched in Europe first and is equipped with the unique Aura Light that enables users to take professional portraits even under low-light conditions. As the V29 follows the principles of vivo's V series, it comes with uncompromising performance in core features for everyday use, complemented by unconventional and fresh design and driven by innovative technology.
Step into the spotlight with studio-level portraits
The V29 provides a powerful camera package with unique Aura Light function for natural studio quality, portrait shots. The rear camera of the V29 is equipped with a large light ring (15.6 mm in diameter), that empowers the camera with excellent low-light and night photography capabilities. The oversized Aura Light creates a three-dimensional lighting effect and ensures even illumination from every angle, eliminating facial shadows and dark areas. With a light-emitting area nine times larger than a standard flash, this lighting delicately accentuates the skin tone while artfully concealing imperfections, unveiling one's natural beauty. Additionally, the 36% increase in brightness as compared to its predecessor V27 allows the vivo V29 to capture shots with vivid clarity.
However, the V29 goes beyond enhancing visual appeal with its all-encompassing Aura Light. It also introduces the integration of Smart Colour Temperature Adjustment, which enables the device to adapt to diverse environments with varying colour temperatures. From dynamic nightclubs to vibrant neon-lit streets or cosy bars, the V29 effortlessly adapts its colour temperature to intelligently align with the environment, providing users with the expertise of a personal light designer. With just a single tap on the V29, subjects in dimly lit environments are gently illuminated, allowing their unique characteristics to shine through. The results are bright, clear portraits with a captivating atmosphere that enriches every shot.
Professional night photography experience on the go
For high-quality night images, the V29 is powered by an advanced 50 MP OIS Ultra-Sensing Camera. Extending exposure and enhancing light intake, the V29 ensures the capture of stable images, even in low-light conditions. With the V29, users can experience studio-level photography integrated seamlessly into a smartphone, all without the weight of a hefty price tag.
Overcoming the limits of traditional selfie photography
With an enhanced 50 MP HD Camera of the V29, vivo overcomes the limits of traditional selfie photography by expanding the field of view and precise autofocus capabilities. Capturing more smiles effortlessly, and without distortions. From group photos to videos, the V29 allows users to unleash their creativity and create enchanting memories.
Industry-unique design through 3D Magnetic Particles technology
The V29 comes in two colour versions: Peak Blue and Noble Black. While the Noble Black colour reflects timeless elegance and style through nano-scale photoetching technique, the Peak Blue stands out and catches the eye. Inspired by the mighty grandeur atop the mountains, the unique design is a true industry first, created with 3D Magnetic Particles technology. 15 million micron-sized 3D magnetic particles create a variety of different shimmering and cascading gradations of light and shadows. By tilting the phone, the mountain-like silhouette shifts and sways, as if responding to the rhythm of the movement.
1.5K premium-level AMOLED curved screen
The V29 series features a 120 Hz 1.5K AMOLED display and a 6.78″ 3D curved screen. With a resolution of 1.5K and a high-pixel density of 452 PPI, every detail comes to life with clear precision. Users will be immersed in a captivating visual experience as the V29 showcases 1.07 billion colours and a DCI-P3 cinema-grade colour gamut. In addition, the V29 prioritizes eye health and has received three SGS professional-grade eye protection certifications.
Allrounder with a powerful and long-lasting performance
The V29 is designed to provide a smooth and powerful experience – anytime users need it. Therefore, the V29 is equipped with a Qualcomm Snapdragon® 778G, known for its fast, efficient everyday performance and seamless 5G connectivity. Thanks to the new eSIM technology, V29 users can easily switch SIM profiles without physically exchanging SIM cards. Travelling abroad to another country and activating a new eSIM card is thus only clicks away. With its Memory Booster (8 GB RAM + 8 GB Extended RAM1), the device offers ample storage and strong support for the operating system. vivo's V29 also includes an Ultra Large VC Bionic Cooling System, which enables the device to unleash optimal performance in various scenarios, delivering an immersive experience – whether during intense gaming sessions or captivating cinematic experiences. In addition, the updated 80W FlashCharge2 and 4600 mAh (TYP) battery allow for fast and safe charging, enabling the phone to be charged from 1% to 50% in just 18 minutes3 and the Battery Endurance is impressive too. Supported by novel battery materials and a smart charging engine, the V29 keeps the battery at its peak condition for a longer time, doubling the industry standard, guaranteeing reliable and long-lasting use.
V Series users have high expectations of the robustness and durability of their product. With IP68 rating, the V29 sets new benchmarks in its price range. Certified with an IP684 rating, the V29 provides durability and ensures protection against dust and water. Whether one is caught in the rain or having fun at a pool party5, the V29 provides splash resistance, water resistance, and dust resistance under normal use. Tested in more than 60 controlled laboratory reliability tests, the V29 demonstrates reliable performance, allowing it to accompany users through rain or shine, ensuring a long-lasting, worry-free user experience.
###
1 8 GB extended RAM is realized by software.
2 V29 series is equipped with a vivo standard charger and supports up to 80W FlashCharge. The actual charging power is dynamically adjusted as the scene changes, and subject to actual use.
3 Charging data is based on vivo laboratory environmental tests. Actual charging speed is subject to actual usage and may vary depending on environmental and other factors.
4 This feature is available for European and Latin American editions of V29.
5 V29 is not a professional waterproof mobile phone, but it is splash-, water- and dust-resistant under normal use. The resistance to splash, water and dust is not permanent and may be reduced due to daily wear and tear. Do not charge the mobile phone when it is wet. Damage due to liquid ingress is not covered by the warranty.
About vivo
vivo is a technology company that creates great products based on a design-driven value, with smart devices and intelligent services as its core. The company aims to build a bridge between humans and the digital world. Through unique creativity, vivo provides users with an increasingly convenient mobile and digital life. Following the company's core values, which include Benfen*, user-orientation, design-driven value, continuous learning and team spirit, vivo has implemented a sustainable development strategy with the vision of developing into a healthier, more sustainable world-class corporation.
While bringing together and developing the best local talents to deliver excellence, vivo is supported by a network of R&D centers in Shenzhen, Dongguan, Nanjing, Beijing, Hangzhou, Shanghai and Xi'an, focusing on the development of state-of-the-art consumer technologies, including 5G, artificial intelligence, industrial design, imaging system and other up-and-coming technologies. vivo has also set up an intelligent manufacturing network (including those authorized by vivo), with an annual production capacity of nearly 200 million smartphones. As of now, vivo has branched out its sales network across more than 60 countries and regions, and is loved by more than 400 million users worldwide.
*"Benfen" is a term describing the attitude on doing the right things and doing things right – which is the ideal description of vivo's mission to create value for society.
Stay informed of latest vivo news at https://www.vivo.com/en/about-vivo/news