Autumn! You can feel it in the air. The nights are cooler, and the first leaves are already turning to red and gold. With the turn of the seasons, the warm colours of nature, and the unique golden light of evenings, everything seem so much more magical. No wonder so many of us love to escape to the country sides to recharge our batteries in autumn. And no wonder this season is so loved by landscape photographers too. Thanks to the vivo X90 Pro you don't necessarily need to acquire advanced knowledge to capture the magic of autumn. With its immersive imaging system, co-engineered with optical expert ZEISS, the X90 Pro delivers new levels of true-to-life image quality and colour fidelity that make it possible for everyone to capture the rich details, colours and emotion of the natural world like a pro – with point and shoot simplicity and with some intuitive pro tips. To help take your autumn photos to the next level, vivo has teamed up with ZEISS photographer, Gabriel Santos, who shares four of his expert tips.

Gabriel Santos' top tips for amazing autumn photos
1) Find joy and confidence in capturing moments
"Tip number one is to have the confidence to get out there and start shooting. I have always looked for an excuse to go out in nature and photography became the perfect reason to follow my passion in life," explains Gabriel Santos. "While I am lucky enough to shoot with professional ZEISS gear, you really get amazing results - especially with smartphones like the X90 Pro, co-engineered with ZEISS. Great light and great technique go a long way. During a recent trip to the Faroe Islands, I was able to take some wonderful images with the X90 Pro."
2) Take on challenging autumn sunlight and use clouds for softer light
Autumn offers beautiful morning and evening lights when the sun is lower in the sky. However, having the sun in shot can be challenging and it can be better to get the image without the sun in frame but instead play with the light that it gives you. The X90 Pro features ZEISS T* Coating on all the rear camera lenses, a professional lens coating that helps control ghost images and flares from bright sources to retain beautiful colour, clarity, and contrast even when shooting into the light. In this example image, the X90 Pro's SRAW mode was used which gives you a greater dynamic range to handle images taken in very strong light.
The mix of all types of weather on an autumn day can also be ideal for your photos. When you have days with a mix of sunny and cloudy weather, try to use the clouds to find moments when the light is softer. It all depends on the subject - sometimes direct sunshine can be great but for other subjects the soft and gentle light of when the clouds are over your subject can be more attractive.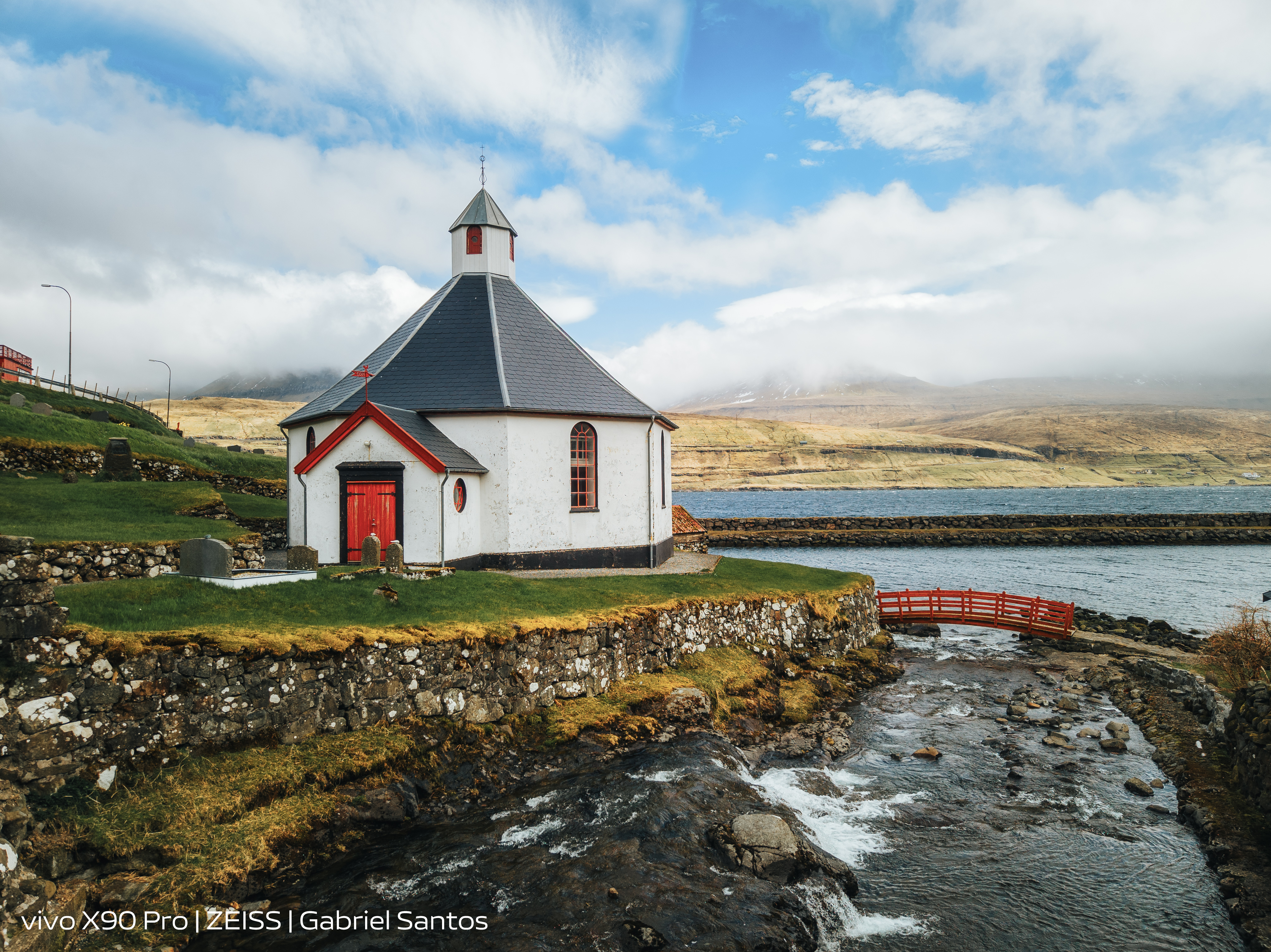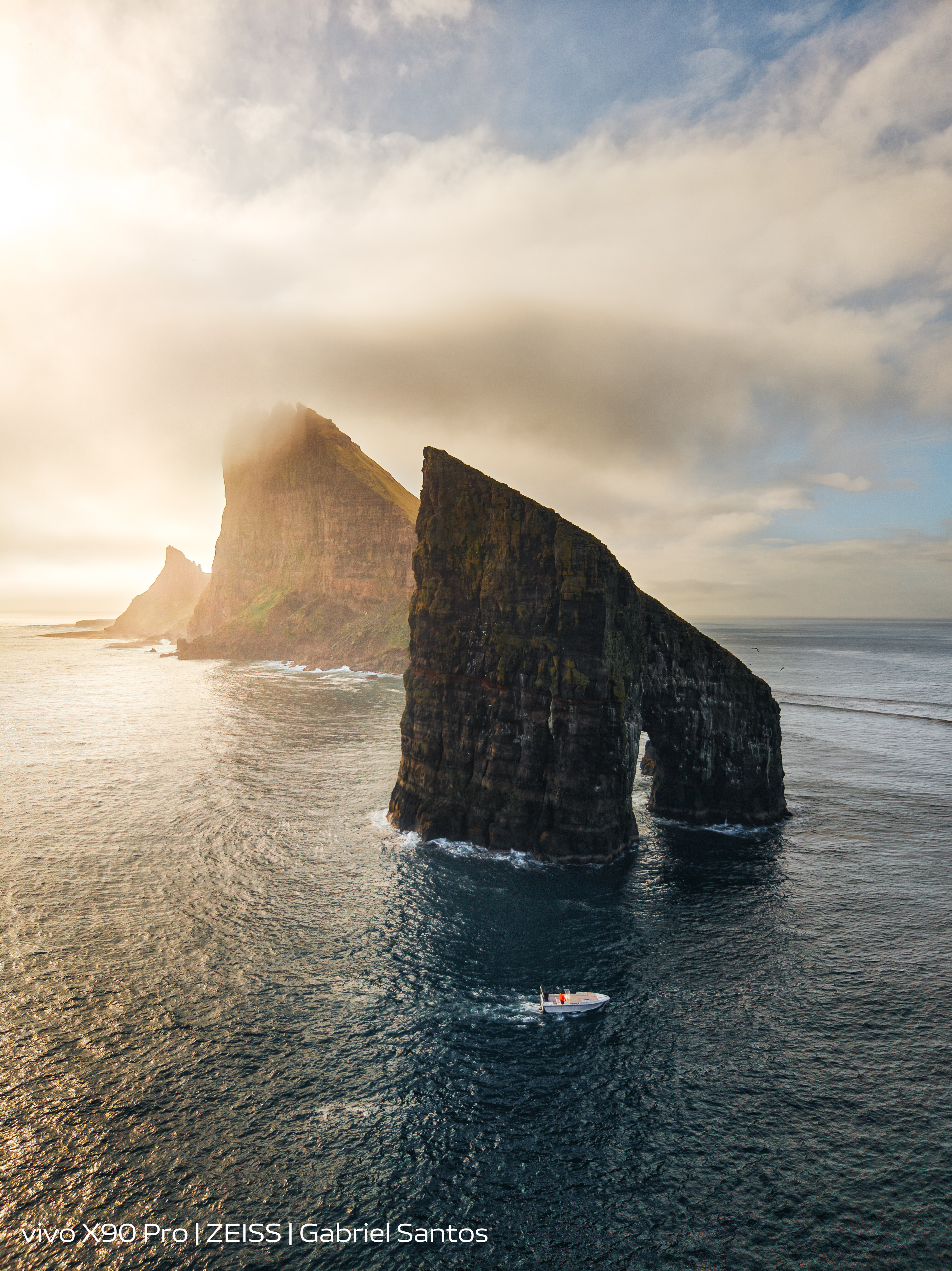 Camera Mode used: ZEISS 1-inch Main Camera, ZEISS Natural Color 2.0, SRAW
3) Get your composition right and change your perspective
No matter the conditions, composition can make or break your image. Our eyes "read" the image from the vertex - or the point where the leading lines through the image come together. It's always really fun to play with the elements of the image to direct the viewer towards the vertex.
This below left photo also reveals the beautiful Faroe Islands landscapes and its unique colors, too, which the X90 Pro captures effortlessly thanks to ZEISS Natural Color 2.0, a professional processing mode that ensures colour stays true to life.
For a change of composition and when you want to photograph a town in a landscape, it's also important to always look for a higher perspective. When you shoot in the hours when the sun is highest, it is often better to shoot with the sun behind you. This shows that whether you're using a whole bag full of professional gear or a phone like the X90 Pro, one of your best tools is your feet! In this right shot, the quality of the X90 Pro camera and the immersive imaging system helps to ensure that the image is definitely worthy of the climb!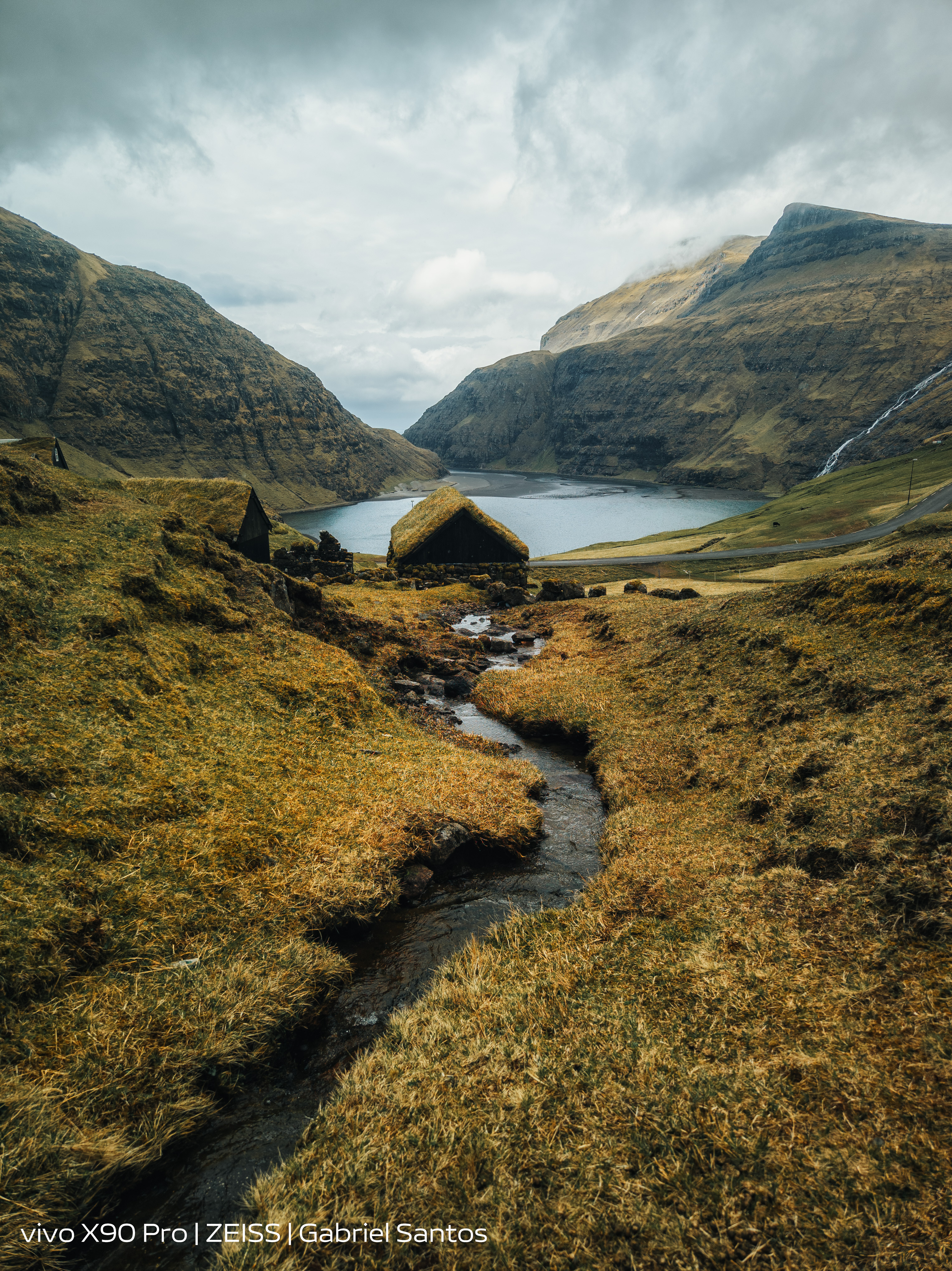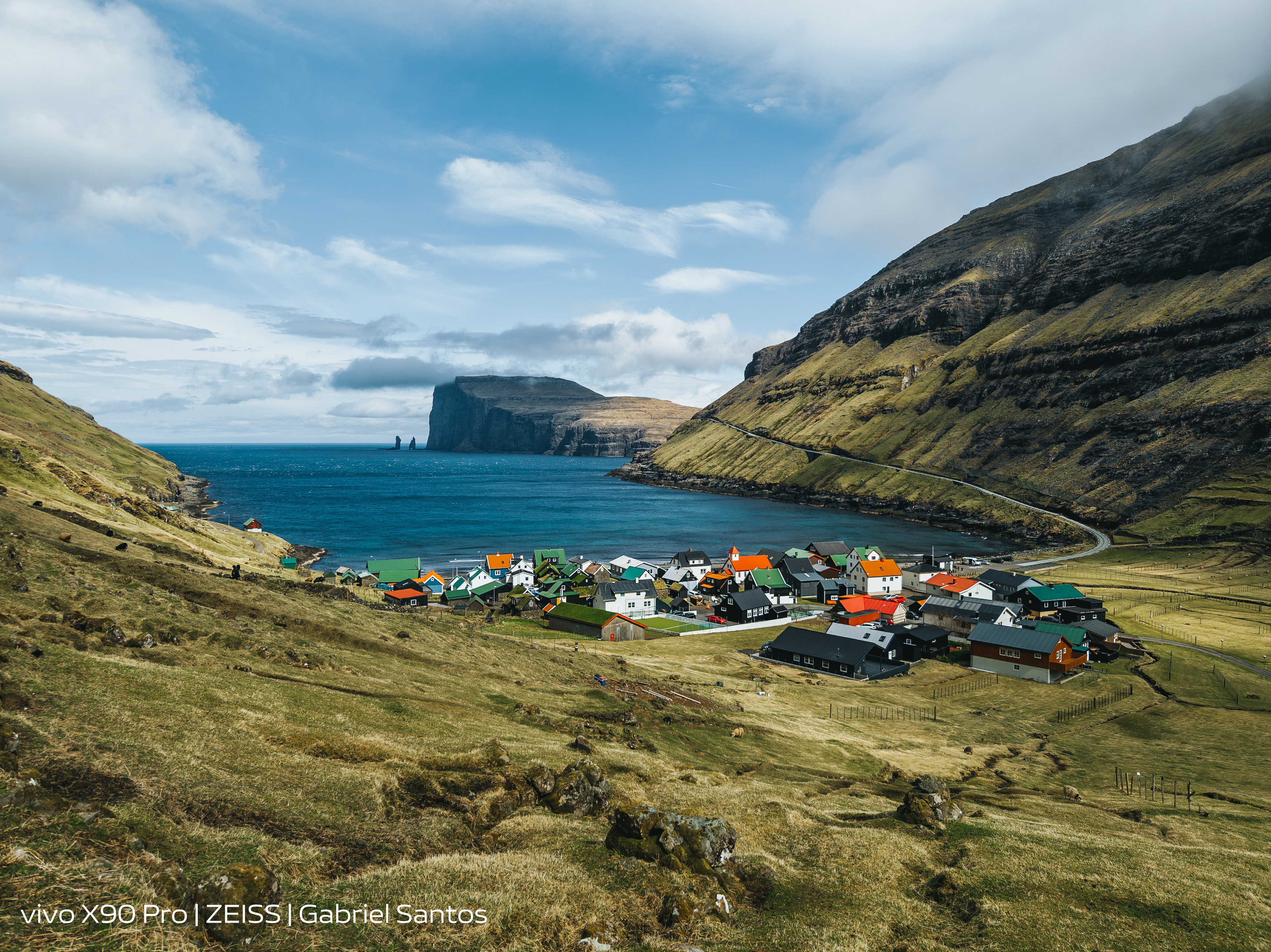 Camera Mode used: ZEISS 1-inch Main Camera, ZEISS Natural Color 2.0, SRAW
4) Shoot in SRAW for even more image quality in low light
When you're enjoying autumn evenings and the light starts to fade, the quality of your imaging system can really help to ensure sharp, high-quality images . The X90 Pro in its Pro mode has a SRAW mode that keeps all of the image quality to make editing more successful - and helps you get an even better image when there is little light. The X90 Pro does really well in any light thanks to a large, ZEISS 1-inch Main Camera sensor that helps to capture much more light.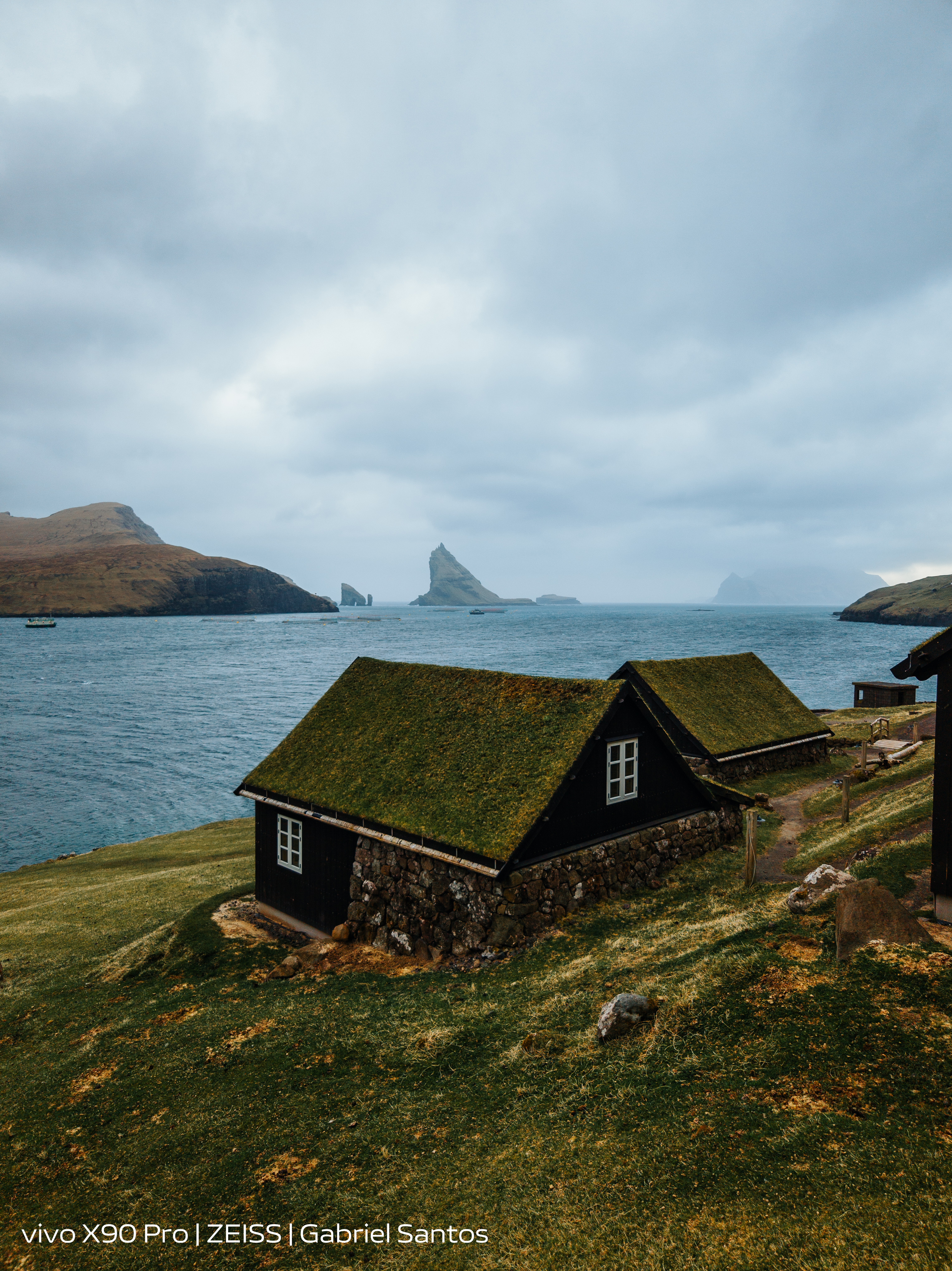 Camera Mode used: ZEISS 1-inch Main Camera, ZEISS Natural Color 2.0, SRAW
About Gabriel Santos
Based in Len, Spain, ZEISS photographer, Gabriel Santos turned his passion for wildlife and nature into a career. As well as professionally shooting landscapes, he runs Photography Workshops around the world to provide expert guidance on how to shoot the natural world.