A customised 1-inch main imaging sensor, bespoke image processing chip, as well as capability to charge the battery up to 50% in just eight minutes, are just some of the features of this smartphone making its way to Europe
vivo announces the European launch of its latest imaging flagship, the vivo X90 Pro. The third-generation smartphone, coming out from the global imaging partnership between vivo and ZEISS, brings outstanding imaging capabilities, as well as a significant performance update thanks to its dual-flagship chipset configuration. On top of the specifications list, stands the largest imaging sensor to-date and the new and improved vivo V2 image processing chip, with which vivo aims to reinforce its imaging leadership in the smartphone category.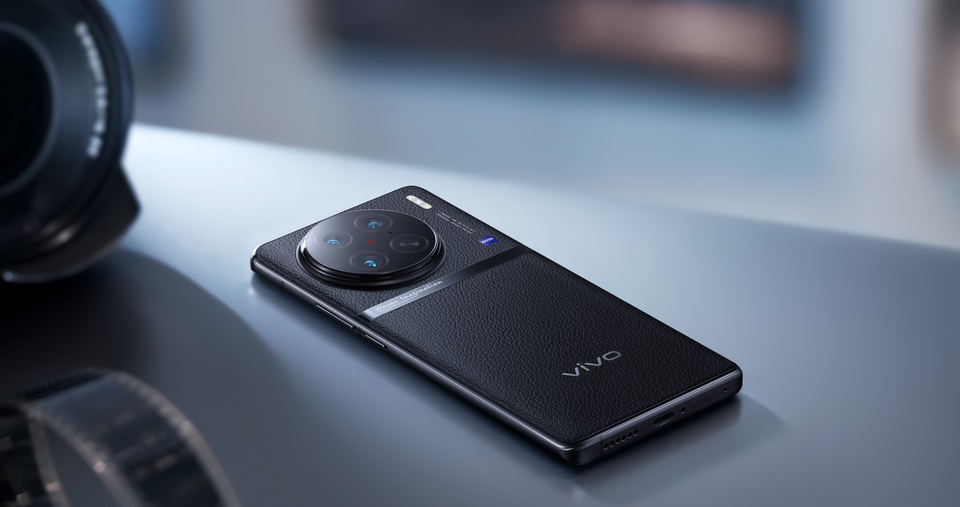 "We are excited to bring our latest imaging flagship smartphone to Europe. The new vivo X90 Pro combines outstanding, industry-leading imaging technologies co-engineered with ZEISS, with the latest computational technologies developed both in-house and in collaboration with MediaTek, to meet and surpass some of the most demanding photography and videography challenges, including low-light shooting scenes," said Daniel Götz, Product Manager at vivo Europe. "We are very much looking forward to feedback from customers and partners, and are confident that the new member of the X series will again be among the best imaging devices in the industry."
"Currently, the boundaries in mobile imaging are shifting dramatically: good image quality has become a hygiene factor in smartphone photography, while at the same time the latest flagships such as the vivo X90 Pro enable professional-level image results. Hardware and software work hand in hand, empowered by artificial intelligence. Consumers thus achieve professional results without the need of having broad photography knowledge," said Oliver Schindelbeck, Senior Smartphone Technology Manager, ZEISS Consumer Products.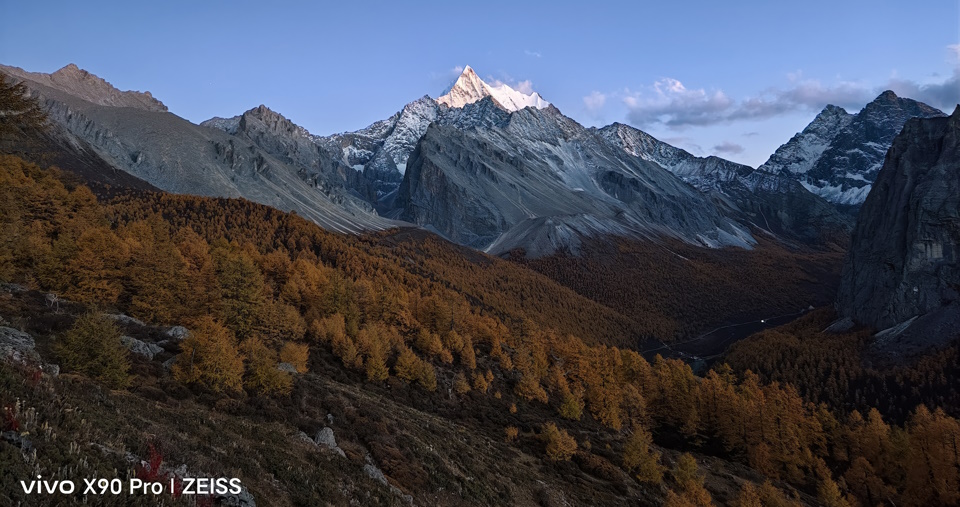 Powerful imaging specs, a big leap forward
The latest device coming out of the vivo and ZEISS Global Imaging Partnership, which has been in the works for nearly three years, brings forward a slew of improvements, to offer an outstanding photography and videography experience. This includes a newly developed triple main camera setup, which significantly increases light sensitivity, natural color processing and image stabilisation, for an intuitive camera experience, inviting both professionals and newbies alike to capture outstanding moments.
The "leader of the pack" is the industry largest-to-date, customised 1-inch IMX989 imaging sensor. Comparing to other devices with a 1-inch sensor, the 50-Megapixel shooter offers large f/1,75 aperture and 3,2 μm large pixels in a 4-in-1 configuration, allowing more light intake per pixel, resulting in clearer and sharper images. The photosensitive area of the sensor has been increased by 77% vs last year's flagship, the vivo X80 Pro, with light intake capacity increase of up to 43%.
Next in line is the 50-Megapixel portrait camera, with its fixed-focus 50-milimetre configuration. Behind the lens, sits an IMX758 sensor, achieving aperture of f/1,6, allowing capture of subtly detailed portraits, even in low-light conditions. Building on the highly praised portrait functionalities of its predecessor, the new device brings the further improved quality of a portrait camera, right into the pocket of every vivo X90 Pro user.
The camera trio is rounded by a 108-degree ultra-low distortion wide-angle camera, with its 12-Megapixel Sony IMX663 Sensor and f/2,0 aperture, enabling the perfect shot even when standing close to the subject.
The X90 Pro introduces a bespoke optical image stabilization (OIS) technology, developed by vivo, allowing for more intelligent and precise stabilization correction compared to standard OIS, thanks to which it achieves CIPA Level 4 image stabilisation, which indicates to a professional level of setup.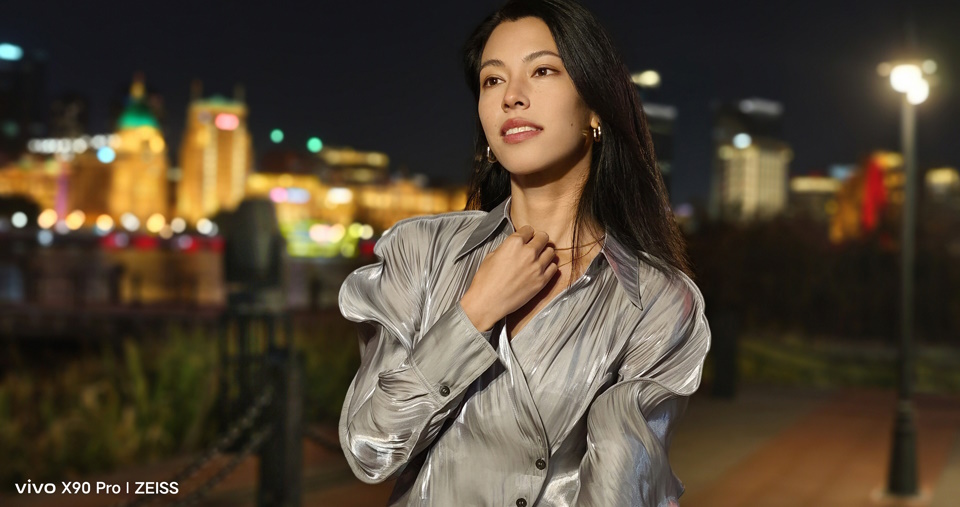 Pro camera features to capture life's moments, day or night
The new vivo X90 Pro benefits not only from upgraded sensors, but also from a bespoke imaging chip, named the vivo V2. It features in-house developed AI algorithms. On top of that, it features ZEISS Optics with T* Coating, to further enhance the capability of night photography and astrophotography, making the new X90 Pro an outstanding photography companion.
Thanks to hardware and software advances, the X90 Pro is now capable of filming 4K videos in low-light conditions, allowing clarity even at high ISO settings, thanks to the noise-reduction algorithm. It's also capable of capturing images of starry skies right from the hands, thanks to the Handheld Astro mode, and the AI Night View tackles the challenge of getting more accurate the color tones in night photography, to name but a few.
The X90 Pro brings the ZEISS Natural Color 2.0 feature; This has been further calibrated by vivo and ZEISS, to present colors with more authenticity and accuracy, bringing captured images closer to what is seen with the naked eye.
Another powerful feature is made possible through the vivo ZEISS Co-engineered Imaging System is the Zero-Shutter-Lag Motion Snapshot, which makes capturing motion easier than ever before. The zero-second delay means what customers see is what they get in key moments, even in low light. In Sports mode and Night Sports mode, the combination of the high-speed shutter and motion detection algorithm can instantly freeze frames, keeping any fast-moving subject clear, such as a water balloon popping mid-air for example.
Finally, thanks to the capable 1-inch sensor, the smartphone brings creative effects jointly developed by vivo and ZEISS, such as the ZEISS Cine-flare Portrait, which simulates the flare effect seen in many well-known films, as well as the capture of unique miniature cityscapes, using the ZEISS Miniature Effect, to enable miniatured perception via keeping a small part of the landscape sharp, creating the illusion of a miniature scene with no post-editing needed.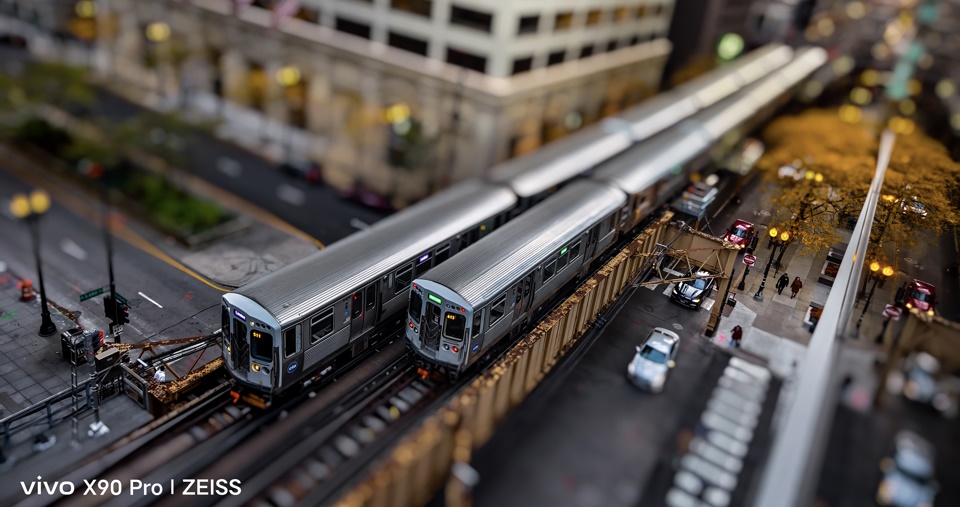 Worry-free charging: Up to 50% in just over 8 minutes
The new X90 Pro supports 120W Dual-Cell FlashCharge which, combined with an equivalent 4870 mAh large battery, improves both the charging speed and the battery life. The X90 Pro also supports the well-known 50W Wireless FlashCharge, introduced with last year's X80 Pro.
The new X90 Pro offers two charging modes: fast charging mode and balanced mode. In fast charging mode, X90 Pro can be charged to 50% in 8 minutes and 10 seconds. The balanced mode is ideal for everyday charging, taking only 29 minutes for the battery to get charged to 100%.i Moreover, the device has 24-Dimension Security Protection and TÜV Rheinland Safe Fast-Charge System Certification for guaranteed charging safety.
Powerful device for all-round performance and gaming
The new X90 Pro is, as vivo highlights, a dual-chip imaging flagship device. Powerful processing is supported by a dual chipset configuration: The main of the duo being a MediaTek Dimensity 9200 mobile platform, coupled with the vivo V2 chip, enables the device to achieve an AnTuTu Benchmark score in the range of 1,26 million. The remainder of the spec is rounded with a 12GB LPDDR5X memory and 256GB UFS 4.0 storage, boosted with vivo Extended RAM which adds an additional 8GB virtual memory on-tap, and UFS Deep Defragmentation, offering smooth multitasking and data processing.
Keeping hard-working components cool is the improved vapor chamber liquid cooling system. This features a 24-layer cooling structure, which has been increased by over a third versus its predecessor, covering an area of 4,002 square mm. Additionally, an innovative frame design reduces the heat transfer from the CPU to the frame of the phone, keeping areas where hands touch the phone when held horizontally, up to 2oC cooler in heavy-load scenarios such as intensive gaming.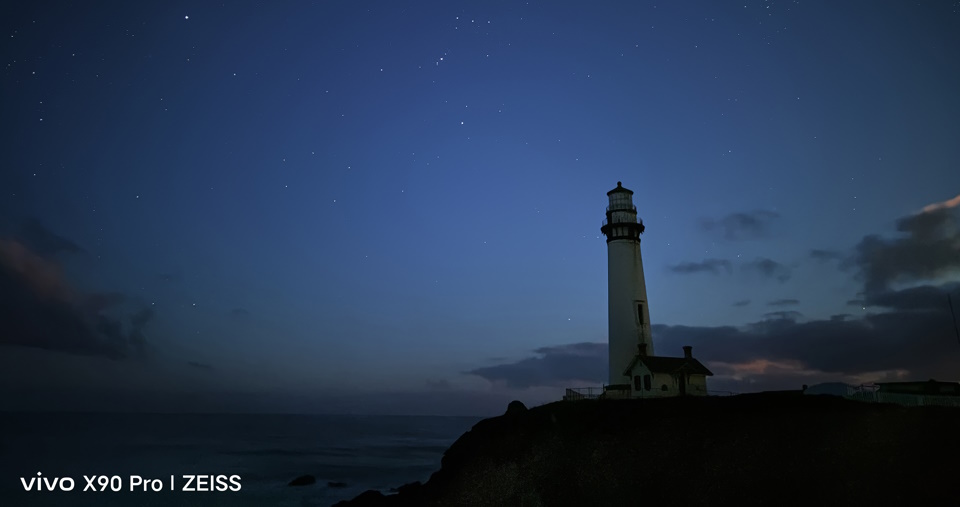 Beautiful and safe to see, thanks to reduced blue light, from chip onward
The whole front of the phone is reserved for a 6.78-inch screen, which offers immersive display effects and advanced eye protection. The display is made of a new luminescent material, which effectively reduces blue light. High-frequency pulse-width-modulation, at a frequency of up to 2160Hz, drastically reduces screen flickering, and thanks to precise dimming, the display brightness can be finely tuned each second to match the external lighting conditions, ensuring viewing comfort.
True-to life colors on the screen as well: ZEISS Natural Color Display
For the first time, the ZEISS Natural Color Display is now added to screen color style settings as an option besides the default display mode, to ensure the captured colors are not affected by the display. Now every individual display of the vivo X90 Pro gets calibrated to guarantee that the color rendition of the display closely matches what the human eyes can see.
For those enjoying streaming video-content or gaming on the go, X90 Pro's large, curved screen can reproduce 1.07 billion colours and a 100% DCI-P3 wide colour gamut, delivering rich and natural colours. On top of this, the display boasts HDR10+ and SGS low blue light, low motion blur, low flicker, AI low blue light certifications, as well as a refresh rate of up to 120 Hz, ideal for gaming.
The X90 Pro also features a Dual Stereo Speaker, a X-Axis Linear Motor for a more immersive audio-visual experience, and rich tactile feedback for top-notch mobile gaming.
Authentic new design, premium experience
The new X90 Pro comes with a bold new design inspired by the Fibonacci spiral to deliver a balanced and unique look. A horizontal band, called the Skyline, is introduced on the back vegan leather cover to divide the functional zones clearly. The sectional design balances the visual focus, making the camera module a very distinct design feature.
Drawing on the design of professional cameras, the new X90 Pro integrates the three rear cameras into one "Big Eye" to create an integrated overall look, representing the powerful camera system inside. Coated with Corning's Gorilla Glass and ultra-hard coating, on the surface, the overall hardness of the glass lens reaches 6 on the Mohs scale of mineral hardness, for additional toughness and resistance to drops and scratches.
The X90 Pro display is protected with the latest SCHOTT Xensation® Up protective glass.ii This chemically strengthened lithium-aluminosilicate glass helps prevent cracked screens and enables the device to keep a sleek curvature of the display and ensures high resistance. In set drop tests, Xensation® Up can survive drops from twice the height of conventional aluminosilicate (AS) glass.
The X90 Pro comes in a timeless Legend Black colour. The back is covered with soft-to-touch pebbled vegan leather, which is environmentally friendly, stain-resistant, and durable. X90 Pro has a rating of IP68 for water and dust resistance.iii
-
i) The charging data is obtained from vivo laboratory tests. Test environment: ambient and smartphone temperature of 25℃±1℃. Test conditions: 1% of battery capacity, in fast charging mode, all phone services and features turned off except for voice calls, screen off, and an official standard charger and data cable used. Actual data may vary depending on the test environment, charging situation, original phone temperature, long-term battery wear, and other factors.
ii) For further information on the SCHOTT Xensation® Up protective glass technology, please visit the company's website: https://www.schott.com/en-gb/products/xensation/product-variants/xensation-up.
iii) Professional lab tests have shown that X90 Pro meets the IP68 rating (IEC 60529). This protection guards your phone against water and dust during day-to-day use and offers improved durability.