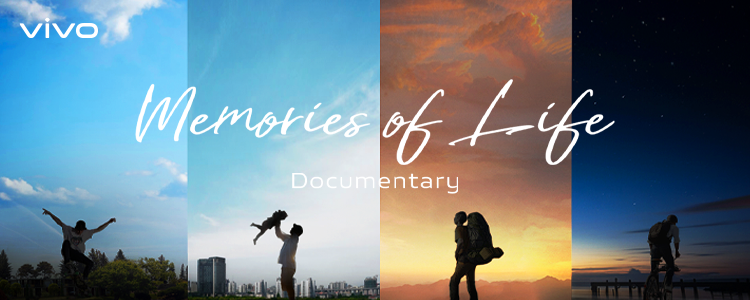 Memories of Life is a documentary project initiated by vivo, for all users.
The changes of light and shadow are a record of emotions and stories. The core of vivo's brand value – "Joy of Humanity" – lies in the sincerity of life and it pays tribute to humanity. vivo believes that technology advances life and empowers humankind to enjoy daily lives.
Through the Memories of Life campaign, vivo hopes to document the ordinary yet different aspects of the human world, for it to be the memories that weave together the generation and the community and remain as the "Memorial of Light and Shadow" for humanity.
Care, dream, hope, joy, and love – everyone has their own distinctive memories. Users may document their stories, the words they wanted to say, the little moments in daily lives, or the longing for the future. vivo will document all of these stories in the form of a documentary titled Memories of Life.
vivo captures not only the art of light and shadow but life.
How to Participate and Eligibility
Participating in this campaign is relatively simple. For public to join and contribute videos, they will only have to follow simple steps as follows:
1. From 27 October 2021, 12:00am to 10 November 2021, 11:59pm, film a video(s) within 15 to 60 seconds that is related to the following themes (select only one). It is recommended to film in vlog style, and participants are encouraged to be creative.
a. This is love: What was your most memorable time spent with your loved ones?
b. Always in my heart: How do you remember the younger self?
c. Keep on going: What was the experience that inspired you to do more?
d. Follow your dreams: What is your dream life?
e. Your joy, your journey: What are the things that bring joy to your life?
2. Upload the video(s) to social media (Facebook, Instagram, Twitter, Weibo, etc.) with hashtag #vivoMemoriesOfLifeMY, and tag @vivo_malaysia (Instagram/Twitter) or @vivoMalaysia (Facebook) between 27 October 2021, 12 am to 10 November 2021, 11:59pm. At the same time, participants are required to send the video through email to jienyang.chua@my.vivo.com. Both actions must be completed to be eligible for the campaign.
3. vivo will be providing exciting prizes to lucky participants whose footage(s) was chosen and featured in the final documentary. vivo will launch the documentary that captured the daily life and unique stories of users from 6 December until 10 December 2021, so stay tuned.
For more information on vivo's "Memories of Life" campaign, please visit https://www.vivo.com/my/about-vivo/news or follow vivo Malaysia on Facebook https://www.facebook.com/vivoMalaysia/for more updates.