vivo is thrilled to be joining global football fans at the highly anticipated UEFA EURO 2024TM, set to take place in Germany next summer. As the Official Partner and the official smartphone for UEFA EURO 2024TM , vivo will showcase its cutting-edge smartphone technology on the global football stage and connect with fans through exclusive brand moments and fan experiences. vivo is dedicated to delivering consumer-first technology and flagship smartphones that make pro-level photography easy and accessible for everyone, empowering users to capture every action-packed moment.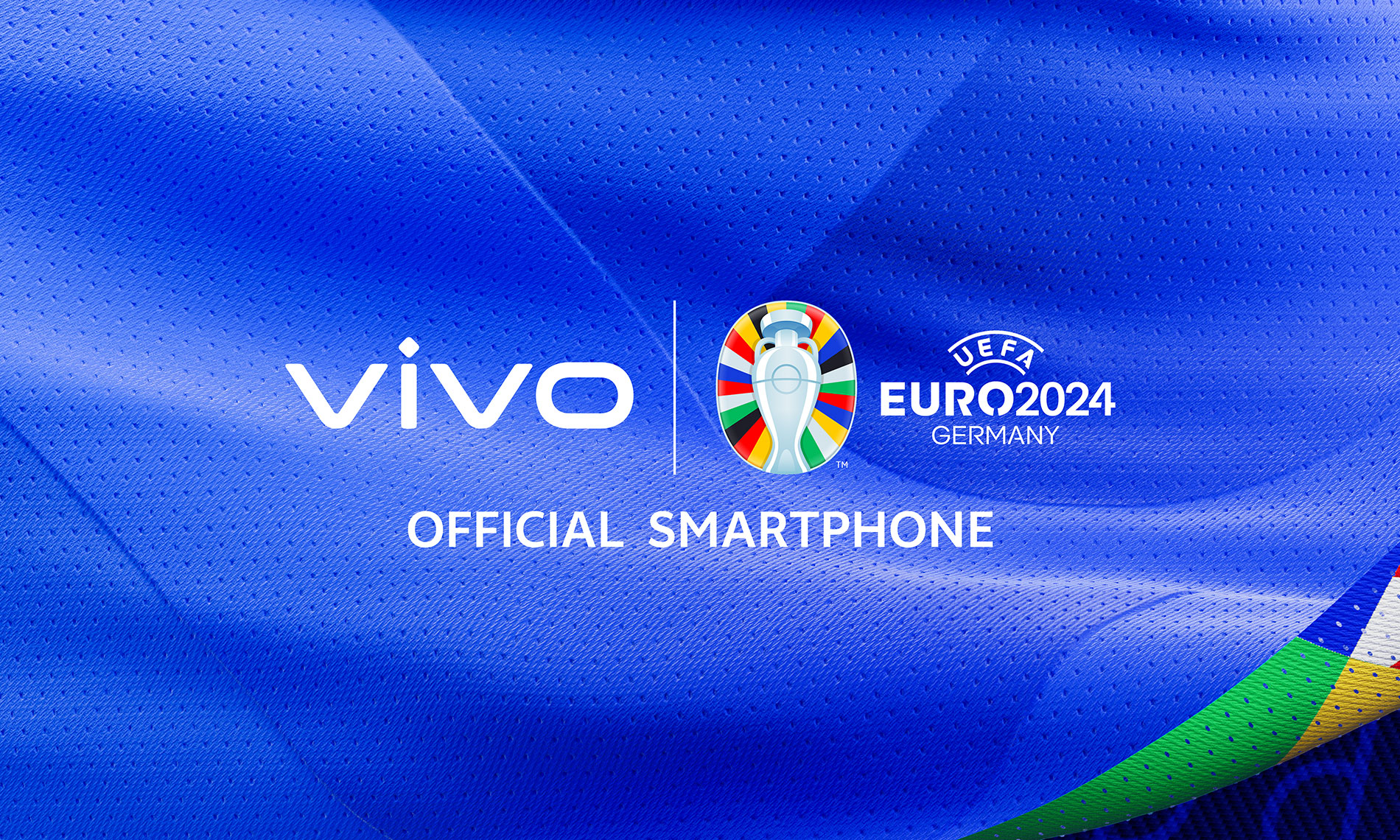 The UEFA EURO championship is one of the world's leading sporting events, enjoyed by over five billion fans worldwide. During UEFA EURO 2024TM fans will have opportunities to truly immerse in the experience through a range of activities, made possible with the support of vivo. Before each game, fans will have a chance to dance along with some of the world's leading DJs and unite through their shared love of music and football. The brand will also join hands with UEFA to present the "Player of the Match" ceremony after each game and celebrate the best players together with the audience.
vivo will work closely with UEFA to engage football fans across the world and share in the excitement that the tournament is sure to bring. As part of the partnership, vivo will support and equip UEFA EURO 2024TM staff with vivo flagship smartphones to contribute to the success of the event.
In 2021, as an official partner of UEFA EURO 2020TM, vivo launched a social media campaign encouraging fans to capture and share cheers and joyful moments during the tournament. The content created by fans was showcased at the opening and closing ceremonies of the tournament. Additionally, vivo used its proprietary AI technology to restore memorable photos of famous moments in the tournament's history, which were presented to UEFA as a gift for the 60th anniversary of the European Championship. Furthermore, vivo has also sponsored one lucky fan's dream trip to the Championship Final in response to an initiative started by other football fans on social media. And vivo's support for football extends to other global events as well.
Football continues to be the most widely followed sport globally, with a rich history that exemplifies the very essence of teamwork and the pursuit of a common goal. Through the power of sportsmanship, football can break down barriers and build strong bonds between individuals and communities. vivo is proud to build and strengthen emotional connections with fans around the world through a shared passion.
(END)
About vivo
vivo is a technology company that creates great products based on a design-driven value, with smart devices and intelligent services as its core. The company aims to build a bridge between humans and the digital world. Through unique creativity, vivo provides users with an increasingly convenient mobile and digital life. Following the company's core values, which include Benfen*, user-orientation, design-driven value, continuous learning and team spirit, vivo has implemented a sustainable development strategy with the vision of developing into a healthier, more sustainable world-class corporation.
While bringing together and developing the best local talents to deliver excellence, vivo is supported by a network of R&D centers in Shenzhen, Dongguan, Nanjing, Beijing, Hangzhou, Shanghai and Xi'an, focusing on the development of state-of-the-art consumer technologies, including 5G, artificial intelligence, industrial design, imaging system and other up-and-coming technologies. vivo has also set up an intelligent manufacturing network (including those authorized by vivo), with an annual production capacity of nearly 200 million smartphones. As of now, vivo has branched out its sales network across more than 60 countries and regions, and is loved by more than 400 million users worldwide.
*"Benfen" is a term describing the attitude on doing the right things and doing things right – which is the ideal description of vivo's mission to create value for society.
Stay informed of latest vivo news at https://www.vivo.com/en/about-vivo/news